If you have started using a new mobile number and have planned to make the same your primary mobile number. Then it is highly recommended to change or update the same in your bank account. In this guide of mine, I will tell you how you can update or change mobile number in CSB Bank account.
Here we are talking about the registered mobile number that is used by the bank to communicate with you. If any transaction takes place using your bank account. Then you will receive an SMS from the bank on this number only. Not only the transaction alerts but even the OTPs are also sent to the registered mobile number only.
Steps to Change Mobile Number in CSB Bank Account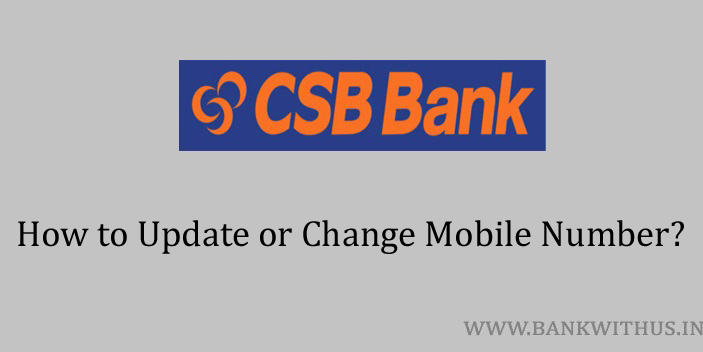 I am not going to explain to you any online method to do it. But there is an offline method that will work for all the account holders of the CSB Bank. Follow the instructions given below to get your number changed to the new one.
Steps to Update or Change Mobile Number in CSB Bank Account:
Take an A4 Size Paper.
Write an application letter addressing the branch manager of your CSB Bank home branch.
The subject of the letter should be "Change of Registered Mobile Number".
In the body of the letter, you explain to the manager that you have changed your primary mobile number. And want to update the same in the bank records.
You have to make the mention of your account number, your old and new mobile number clearly in the letter.
Take any one of your identity proof documents. (Aadhaar Card, PAN Card, Voter ID Card, etc.)
Get a clear photocopy of the document.
Make your signature on the document to make it self-attested.
Attach it with your application letter and submit both of them to the bank officials at your home branch.
Conclusion
This is how you can change your mobile number in the bank account. But when you are visiting your home branch. Make sure you carry the original copy of the identity proof document with you. The bank officials may ask you to show the document for verification purposes. For more information, you can call the customer care of CSB Bank on 1800 266 9090. This is a toll-free number and you will be able to speak with the customer care executive.