The mobile number that is mentioned in your bank records of yours is generally termed a registered mobile number. This is the number that banks use to communicate with you. The type of communication done by the bank is very important. Like the transaction alerts and OTP via SMS while using the account online. In this guide, I will tell you how you can change mobile number in Kotak Mahindra Bank account.
There are multiple methods that you can follow to update the mobile number in the bank account. I have explained two methods below. The first is an offline method in which you will have to visit your home branch. And the second method is online in which the use of internet banking service is made. You can choose any method which you feel easy and follow the instructions.
Methods to Update or Change Mobile Number in Kotak Mahindra Bank Account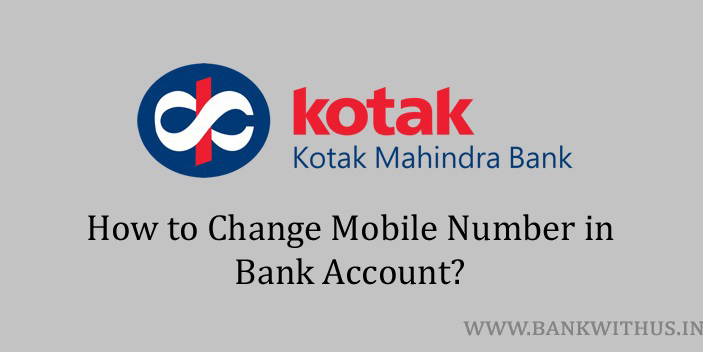 Choose any method and follow the instructions.
By Visiting the Branch of the Bank
Steps to Change Mobile Number in Kotak Mahindra Bank Account by Visiting Branch:
Take your identity proof document with you.
Visit your Kotak Mahindra Bank's home branch.
Speak with the bank officials there and tell them that you want to update your mobile number in the account.
The officials will handover you a form.
Fill the form with all the basic details like your name, bank account number, new mobile number, etc.
Check all the filled details, if everything is correct then sign the form.
Submit the form to the bank officials.
The officials will check the form and ask you to show your identity proof document.
Show your identity proof document and your request for the change of mobile number will be taken.
Using Internet Banking
Steps to Change Mobile Number in Kotak Mahindra Bank Account Using Internet Banking:
Visit the official website of Kotak Mahindra Bank.
Log in to your bank account.
Click on "Profile/Update Contact Details".
Find your mobile number in the contact details section.
Click on "Edit".
Enter your new mobile number and re-enter the same.
Choose OTP as the mode of authentication.
Enter the OTP.
And click on the "Submit" button.
Conclusion
Other than these two methods you can also make use of the official mobile banking app of the bank. And for the mode of authentication, you can choose the debit card, secret questions, Aadhaar Card, and credit card details. For more details, you can call the customer care of the bank on 1860 266 2666. And speak with the support executive of the bank.