If you have changed the mobile number you use. Then you should update the same in your bank account as soon as possible. That is because the bank does all the important communication with the account holders on the registered mobile number only. In this guide of mine, I will tell you how you can update or change mobile number in Indian Overseas Bank account.
If you don't update your mobile number in the bank records. Then you will not receive any kind of SMS alerts for the transactions happening in your bank account. And the other thing I want to tell you before learning the steps to change the number is. This change can not be done online using mobile banking or internet banking as it is a very important aspect of the security of your bank account. So you need to follow the offline method.
Steps to Change Mobile Number in Indian Overseas Bank Account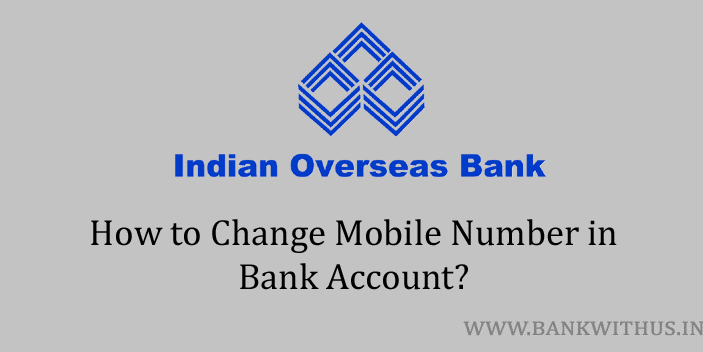 Follow the instructions given below to change your mobile number.
Steps to Change Mobile Number in Indian Overseas Bank Account:
Take any of your identity proof documents with you. (Aadhaar Card or PAN Card)
Visit your home branch of the Indian Overseas Bank where you hold the account.
Go to the helpdesk and tell the bank officials that you want to update your mobile number.
The officials will hand over a KYC details update form.
Fill the form with all the details like date, your name, account number, etc.
In the mobile number section, you have to mention your new mobile number.
Check all the details you have entered in the form, if you find any mistakes then correct those.
If you don't find any mistakes make your signature on the form.
Submit the duly filled and signed form to the bank officials and show your identity proof document for verification purposes.
Conclusion
The bank will not charge you anything for changing the mobile number in the bank records. While submitting the form the officials will ask you to show any identity proof document. This is done for verification purposes and you have to show the original document to them. The change will take a maximum of 1 working day to reflect in your bank account. For more information, you can call the customer care of the bank on 1800 425 4445. (toll-free number)