If you want to pay someone any amount of money. Then you can do that directly from your bank account. This can be done with the help of a money transfer. In this guide, I will tell you how you can add beneficiary account in CSB Bank account.
You can use modes like IMPS, NEFT, and RTGS for the money transfer depending upon the urgency and the amount of the transfer. In case if you are planning for a transfer of a small amount then you can use the UPI mode to do it. Your money will reach the account of the beneficiary within seconds of time.
There is no need of visiting your home branch to do it. Because you can do it online with the help of internet banking services and the mobile banking app of CSB Bank. If you wish to use your computer then you can use internet banking services.
But in case if you prefer using your smartphone to add the beneficiary and transfer the money. Then you can use the official mobile banking app of the bank. This app is available for both Android users and iOS users. You can install the app from Google Play Store or App Store depending upon the smartphone you use.
The Process to Add Beneficiary in CSB Bank Account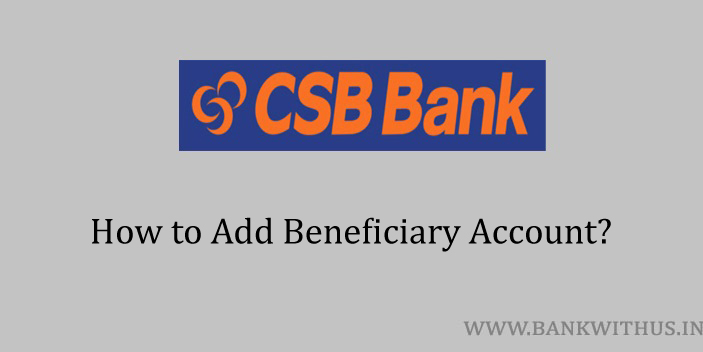 Visit the official website of CSB Bank.
Click on "Online Services".
Select the type of internet banking user you are from the drop-down menu. (retail, corporate, etc.)
Enter your User ID (username) and click on "Go".
On the next page enter your password and login into your internet banking account.
Now choose the "Funds Transfer" option.
After that choose the option that will let you manage the beneficiaries.
Select the type of beneficiary account you want to add. (CSB Bank account or other bank account)
Enter the name of the beneficiary, account number, and IFSC code.
Verify the information you have entered and click on "Confirm" if everything is correct.
The bank will send you an OTP on your registered mobile number.
Enter the OTP correctly and complete your addition of the beneficiary.
Conclusion
This article is written by referring to the resources available online. So the name of the options in the internet banking of CSB Bank may differ. But the concept remains the same. So you won't face any issues. But if you need help then you can call customer care on 1800 266 9090.