Debit cards are great and these cards are given to all the eligible account holders. But it is the responsibility of the account holder to use it safely. Today I will tell you how you can change CSB Bank debit card PIN number.
It is a good practice to change the PIN of the card periodically. And even if you feel that your PIN is exposed to someone. You should immediately change it.
There is no need of visiting the home branch of the bank to change your PIN. There are multiple methods that can be used to do it.
And there are both online and offline methods to do it. I have explained more than one method below. You can choose any method and follow the instructions.
Methods to Change CSB Bank Debit Card PIN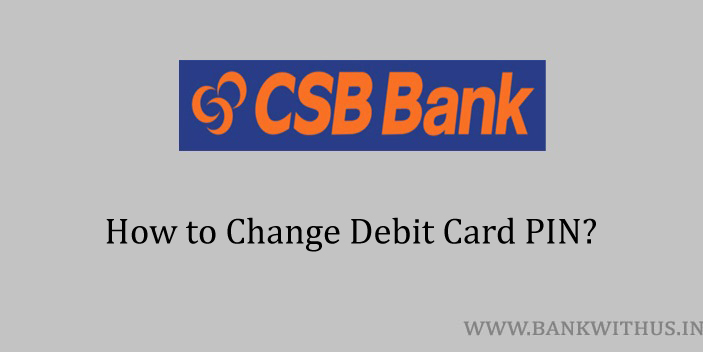 Choose the method and follow the instructions.
Using the Mobile Banking App
The official mobile banking of CSB Bank is available for both Android and iOS users. The name of the app is CSBMobile+.
You can download and install the app from Google Play Store if you are an Android user. And in case if you are an iOS user then you can install the app from App Store.
Open the app after the installation and login into your account by entering your username and password. Once done go to Value Added Services → Set your Prefered ATM PIN → Choose the debit card whose PIN you want to change → Enter the New PIN and confirm it.
Using Internet Banking
The process is very similar to that of the mobile banking method. Here you have to visit the official website of CSB Bank and login into your internet banking account.
After that, you have to click on "Set/Change ATM PIN". All your debit cards will be displayed to you, select the card of your choice and set your new PIN instantly.
Using ATM Machine
Visit any ATM Machine that is operated by CSB Bank. Insert your card into the machine and choose the "New/Forgot PIN" option from the screen.
After that, you have to authenticate a few details of your account. Once done enter your new PIN and press the "Confirm" button.
Conclusion
Always make sure that you never share your username, password, PIN, OTP, etc. with anyone. If you need more help then you can call customer care on 1800 266 9090. (toll-free number)