If you want to keep receiving the transaction alerts and OTPs via SMS from your bank. Then you should keep your registered mobile number updated in the bank account. In this guide of mine, I will tell you how you can update or change mobile number in Saraswat Bank account.
The bank allows you to change the mobile number by following two methods. However, both methods are offline and there is no online method. The first method is using the ATM machine. And the second method is by submitting a written request to the bank by visiting your home branch.
Methods to Change Mobile Number in Saraswat Bank Account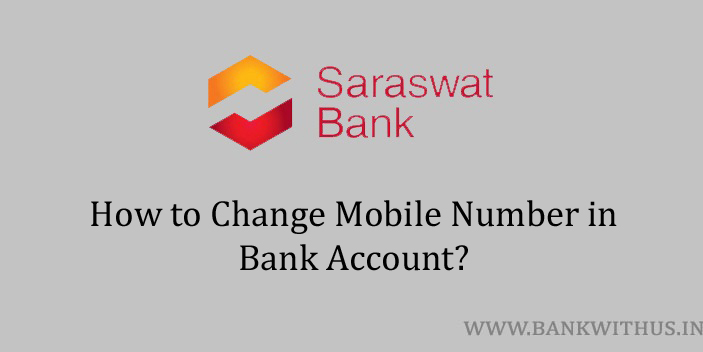 I have explained both the methods below. Choose the method which you feel is good for you. And follow the instructions.
Using ATM Machine
Steps to Change Mobile Number in Saraswat Bank Account using ATM Machine:
Find the nearest Saraswat Bank ATM machine near to you.
Visit the ATM machine.
Insert your ATM card into the machine.
Choose the language in which you would like to use the machine.
Enter your 4 digits PIN number into the machine.
Select "Services".
Choose "Update Mobile Number" from the services menu.
Enter your new mobile number.
And follow the on-screen instructions to update your number.
By Visiting Home Branch
Steps to Change Mobile Number in Saraswat Bank Account by Visiting Home Branch:
Take your identity proof document with you.
Visit your Saraswat Bank home branch.
Speak with the bank officials and tell them that you want to update your mobile number.
The officials will provide you with a form.
Fill the form with all the required details.
Mention your name, bank account number, and the new mobile number correctly.
Check all the details that you have filled in the form.
Sign the form if all the details are correct and submit it to the bank officials.
Show your identity proof document to verify you as the account holder.
Conclusion 
The bank will not charge you anything for the change of the number. And while going to the branch of the bank you can carry your driving license, Aadhaar card, or PAN Card as an identity proof document. But if you want to follow the ATM machine method then it is mandatory that you visit the machine that is owned by Saraswat Bank. For more details call customer care on 1800 22 9999. (toll-free number)