If you have changed the primary mobile number that you use. And not updated the number in your bank account. Then you are losing out on critical SMS alerts about the transactions happening in your account. And also you are will not be able to receive OTP for any online transactions. To continue a smooth banking experience you should update the number in your account. In this guide, I will tell you how you can update or change mobile number in Karur Vysya Bank account.
The first thing I would like to tell you is that you can not change your mobile number online. You will have to personally visit the home branch and submit a written request. (offline) While you go to the bank you have to carry an original copy of your identity proof document. You can carry your PAN Card or Aadhaar Card. If you don't have the physical copies with your currently. Then you can show your identity proof document using the Digilocker app as well. But you have to enclose a photocopy with the written request you give to the bank.
Steps to Change Mobile Number in Karur Vysya Bank Account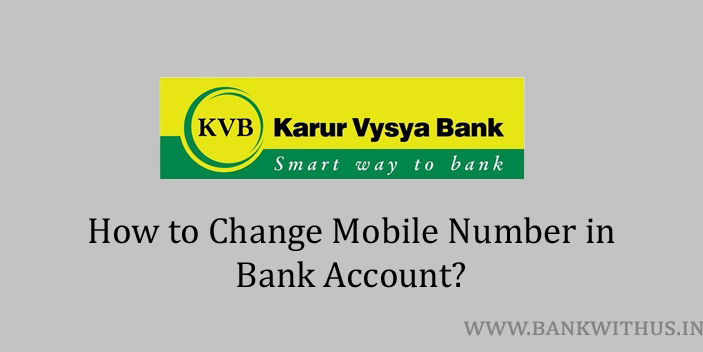 Follow the instructions given below to change or update your registered mobile number.
Steps to Change Mobile Number in Karur Vysya Bank Account:
Take a sheet of A4 size paper.
Start writing an application letter.
The letter should be addressing the branch manager of your Karur Vysya Bank's home branch.
Mention the subject of the letter as "Change of Mobile Number".
In the body of the letter explain that you have changed the mobile number you use. And want to update the same in the bank account.
Clearly mention your banking name, bank account number, and the new mobile number.
Take any of your identity proof documents and get a photocopy.
Sign on the photocopy to make it self-attested.
Attach your application letter with the photocopy, visit your home branch and submit the request to the bank officials.
Conclusion
The maximum time that is required to update the mobile number is 2 working days. But in most cases, it gets updated before evening on the day you submit your application letter. The bank will not charge you anything for this change. And keep in mind that you should never share your account details like username, password, etc. with anyone. And the bank will never call you to ask for such details. For more information, you can call customer care on 1860 258 1916.