You have to add the beneficiary account if you want to transfer money from your bank account. But once you are done with the transfer you can also delete the account you had added. In this guide, I will tell you how you can delete beneficiary account in CSB Bank.
During this time people think that they will not be able to add the account back if they delete it once. But this is not true. If you wish to add the same beneficiary account again in the future. You can do the bank will not stop you from doing it.
The process is very similar to that you followed while adding the beneficiary account. The option to delete the account can be found in the "Funds Transfer" section of internet banking. If you wish you can also use the official mobile banking app of the bank to do it.
The Process to Delete Beneficiary Account in CSB Bank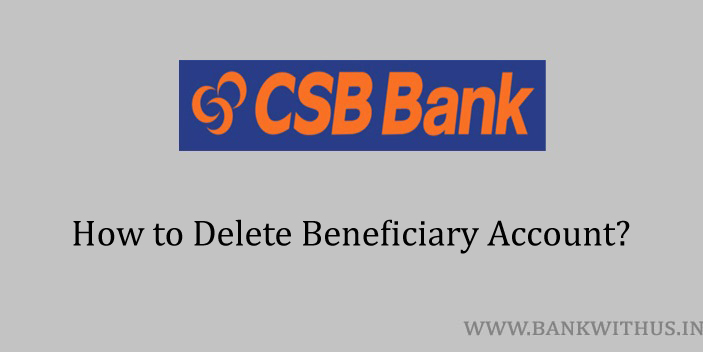 Visit the official website of CSB Bank.
Click on "Online Services".
Choose what type of internet banking user you are. (retail, corporate, etc.)
Enter your User ID on the next webpage and click on the "Go" button.
If you enter the User ID correctly then you will be asked to enter your password.
Enter your password and login into your account.
Click on "Funds Transfer".
Now select the type of beneficiary account you want to delete.
Choose the beneficiary account from the list of beneficiaries.
Click on the "Delete" button.
Conclusion
Please keep in mind that you can delete the beneficiary account only using the official mobile banking app. And the internet banking service which is available on the official website of the bank. So make sure that you don't enter your sensitive account details on any third-party websites. For more information call the customer care on 1800 266 9090.