If you have a bank account then there are a lot of things that you have to take care of. Some of these things have to be done only once. They are like linking PAN Card and Aadhaar Card with your account. In this guide, I will tell you how you can link Aadhaar Card with CSB bank account.
Methods to Link Aadhaar Card with CSB Bank Account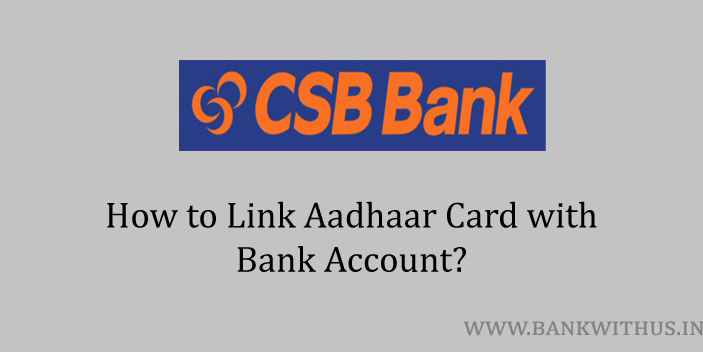 There are different methods that can be used by the account holders to link it. I have explained the major methods in this guide. You can choose any one method and follow the instructions.
By Sending SMS
You can link your Aadhaar card with your CSB Bank account just by sending an SMS. Type an SMS as AADHAAR <space> Account Number <space> Aadhaar Card Number. And send this SMS to 56161 using your registered mobile number.
Using ATM Machine
Find where is the nearest ATM machine of CSB Bank near you. Visit the ATM → Insert your debit card into the machine → Enter your PIN Number → Select "Aadhaar Card Seeding" → Enter your Aadhaar Card number. Now re-enter your Aadhaar Card number and "Confirm" it. You will get a receipt out of the machine for the non-financial transaction you have done.
Using Aadhaar Card Seeding Form
Take a clear photocopy of your Aadhaar card and visit your CSB Bank's home branch along with the photocopy and the original copy of the card. Collect an "Aadhaar Card Seeding Form", fill the form with your name, account number, aadhaar number, etc. Check all the details you have filled in. Sign the form and submit it to the bank officials.
Conclusion
These are the different methods that you can follow to seed your aadhaar with your account. If you need more information then you can call the customer care of the bank on 1800 266 9090. (toll-free)