If you have issued a cheque and now you have decided to stop the payment of the same. Then you can do that, the banks in India have a separate service for your help. But you should make sure that you have a proper reason why you are doing it. This guide will help you to stop cheque payment in CSB Bank.
CSB Bank has got almost all the high tech banking services to offer to its account holders. And the cheque payment stop is one of them. This guide will not deal with the online method but instead, I will tell you the steps of the offline method you can use to get your work done.
Here you should note two things. The first one is the cheque should not be cleared yet. If your bank has already done the payment for the cheque you have issued. Then there is no sense in requesting the bank to stop the payment. Because already the money has been deducted from your account following a debit transaction.
And the second thing you should keep a note of is. The CSB Bank may charge you a fee for this service in some cases they may not. So before you request the bank about this service you should get in touch with them. And the offline method is just perfect for this thing. Because you will be able to have a conversation with the bank officials.
Steps to Stop Cheque Payment in CSB Bank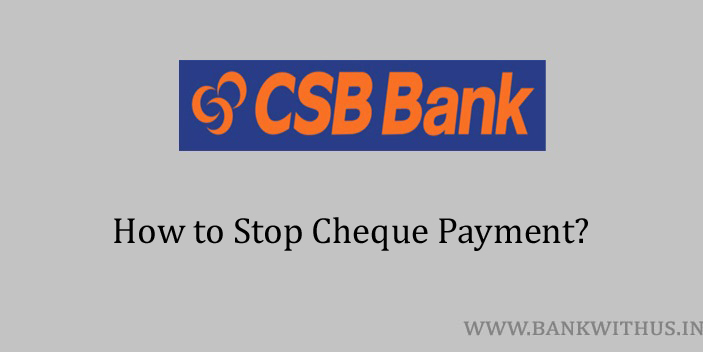 In this offline method, you will have to visit your home branch and fill the customer request form. In this form, there is a separate section that is used for the purpose of stoping the payment of the cheque you have issued. More instructions are given below.
Steps to Stop Cheque Payment in CSB Bank:
Visit your home branch of CSB Bank.
Carry your identity proof document with you or your bank passbook.
Go to the helpdesk.
Tell the bank officials that you want to stop the payment of a cheque issued by you.
Collect a customer service request form.
Fill the form with the details like your name and bank account number.
In the cheque section, fill the details like the cheque number, etc.
Check all the details you have entered in the form.
If you find all the details to be correct, then sign the application and submit the same to the officials.
Conclusion
This is is how you can stop the payment of cheques in CSB Bank. The bank will be able to help you only if the cheque is not cleared yet. Also, make sure that you ask the officials about the charges when you are in your home branch. For more details, you can call the customer care of the bank on 1800 266 9090. And speak with the customer care executive.