There are a lot of details that you have to give to the bank when you open an account with it. Some of these details will never change and some might change. Details like Aadhaar Card number, PAN Card number will never change. But the details like email address and the mobile number might change. So in this guide, I will tell how the account holders can change mobile number in AU Small Finance Bank account.
Here I am talking about the registered mobile number. This is the primary mobile number that is used by the bank to communicate with you. The major communication the bank does with you on your registered mobile number is about the transactions and OTP. Whenever you want to do any online transaction you will have to submit the OTP online. And this OTP is sent my the bank on your registered mobile number only.
These are just two reasons there are many why you should always keep your mobile number updated in the bank. There are some services like SMS banking and Missed Call Banking. You can take the benefits of these services only if you have access to your registered mobile number. When it comes to changing the number you can not do it online. And that is the reason why I have explained an offline method below.
Steps to Change Mobile Number in AU Small Finance Bank Account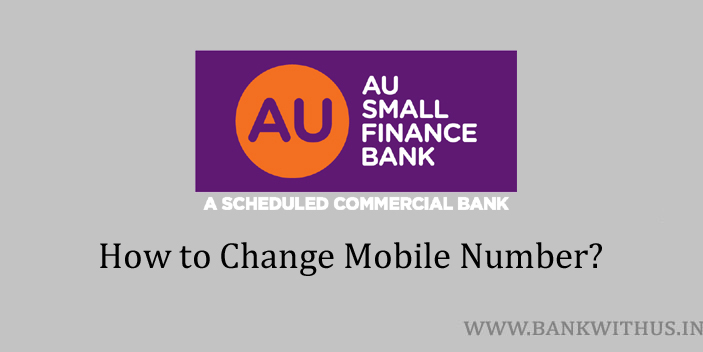 Follow the instructions to update your contact number in the bank records.
Steps to Change Mobile Number in AU Small Finance Bank Account:
Take your bank passbook and an identity proof document with you.
Write an application letter addressing the branch manager of your home branch.
Mention the subject as "Change or Registered Mobile Number".
Make sure you mention your number name, account number, and your new mobile number.
Take a clear photocopy of any of your identity proof documents.
Make your signature on the photocopy to make it self-atested.
Attach your photocopy with the application letter.
Sign the application letter and submit it to the bank officials at your home branch.
Your mobile number will be updated within 2 working days. (subject to verification by the bank)
Conclusion
This is how you can update or change your mobile number in the bank records of AU Small Finance Bank. Always make sure that your email address and mobile number are up to date with your bank account. And also keep in mind that the bank officials will never contact you asking for details like your username, password, OTP, debit card number, etc. If you ever receive such calls you should not respond with your details.