The mobile number is one of the most important aspects when it comes to the security of the bank account. No matter in which bank you have the account or what type of account you have. You should always make sure that your mobile number is up to date in the bank records. In this guide, I will tell you how you can update or change mobile number in Bank of Maharashtra account.
I mentioned that the mobile number is an important aspect of the security of your account. Moreover, it is important for the money or balance you have in your account. That is because whenever a transaction is done using your bank account. You will receive an SMS from the bank alerting you about the transactions. If you have not done the transactions you can block your ATM card or Internet Banking or Mobile banking whichever is used.
By doing this you can keep an eye on the transactions that are happening in your account. It can be a debit transaction or credit transaction. The matter is not only about the transaction alerts you when you are doing any online payment you will receive OTP from the bank. And this OTP is sent to the registered mobile number only. So these are some of the reasons why you should keep the mobile number updated.
Steps to Change Mobile Number in Bank of Maharashtra Account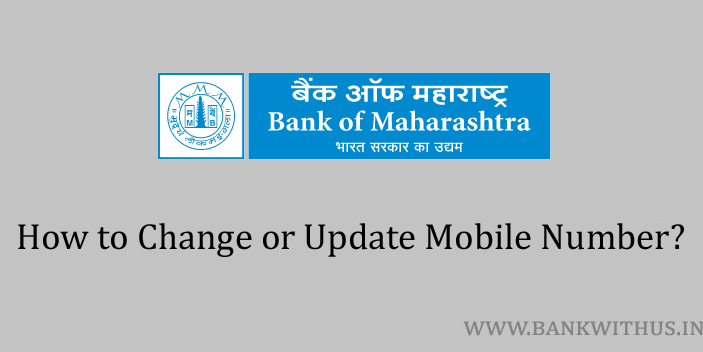 In this guide, I have not explained any online method but I have explained an offline method below. In this method, the account holder himself or herself has to visit the home branch and submit a written request to the bank. Read further for more instructions about the same.
Steps to Update of Change Mobile Number in Bank of Maharashtra Account:
Take a piece of paper. (A4 Size is Preferred)
Write an application letter addressing the branch manager of your home branch.
Mention the subject of the letter as "Change of Registered Mobile Number".
Explain in the body of the letter that you have changed your primary mobile number. And want to update the same in the bank records.
Mention your name, bank account number, your old number, and the new mobile number clearly.
Carry any of your identity proof documents with you or your bank passbook.
Visit your home branch.
Tell the bank officials that you want to update your mobile number.
Submit the application letter. And show your identity proof document to the officials if asked by them.
Conclusion
This is how you can change your registered mobile number in Bank of Maharashtra. Usually, the bank updates the number in 1 to 2 working days. If you get change mobile number form on the official website of the bank or at your home branch. Then you use that form as well.