The registered mobile number is the one to which the bank will send the details of the transactions and the OTP. It is very important to keep this mobile number updated with the bank. Here what I mean by keeping it updated is. If you have changed your primary mobile number then update the same with your bank.
This guide will help the account holders of the Yes Bank to change their registered mobile number in the bank account. There are multiple methods that can be used to change mobile number in Yes Bank. I have explained all of them. You can choose the one which you feel is the right one for you.
Methods to Change Mobile Number in Yes Bank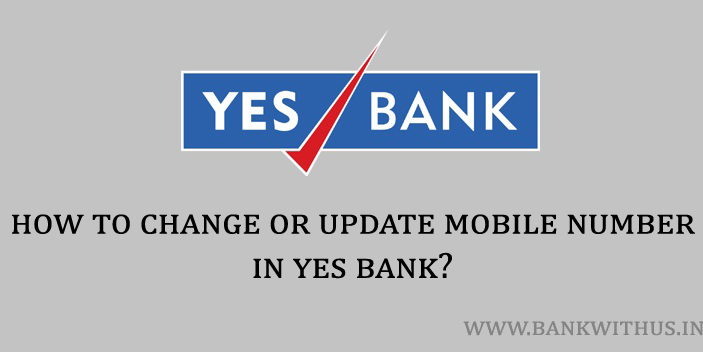 Here are the methods you can use to change the registered mobile number in Yes Bank.
Using ATM Machine
Steps to Change Mobile Number in Yes Bank using ATM Machine:
Visit any of the Yes Bank ATM machines which is near to your location.
Insert your ATM card into the machine.
Select your preferred language in which you wish to use the machine.
Enter your 4 digits PIN number.
Select Registration from the main menu.
Then select the Mobile Number Registration.
Enter your New Mobile Number and Follow the on-screen instructions.
You will receive an OTP and Reference number on your registered mobile number.
Send these two in via SMS in the format ACTIVATE <space> OTP <space> Reference Number> to 567676 within 4 hours.
Visiting the Branch of the Bank
Steps to Change Mobile Number in Yes Bank by Visiting Home Branch:
Visit the nearest branch of Yes Bank in your area.
Talk to the bank officials and tell them that you want to update or change the mobile number.
You will be provided with the Change of Contact Details form.
Fill the form with the details like your name, account number, and your new mobile number.
Check if you have filled all the details correctly.
Sign the Change of Contact Details application form.
Submit the form to the bank officials.
The bank officials might ask you to show an identity proof document.
Show them any identity proof document and your mobile number will be updated soon.
Conclusion
You can change your registered mobile number in Yes Bank by following these 2 methods. If you choose to visit the branch to update the mobile number. Then I recommend you to visit the home branch where you had opened the bank account. For more details, you can call the customer care of the bank at 1800 1200.