There are so many modes of payment in India. But still, the cheque mode has its own place in our minds. And that is because of so many reasons. Let us keep that thing aside. And discuss how you can check Karur Vysya Bank cheque status.
If you want to know what is the current status of the cheque that you have issued. Then the bank has a feature that will help you out. This can be done with the help of the SMS banking service of the bank. So you will need to have access to your registered mobile number.
There are a set of keywords that are given to the account holders by the bank. And there is one keyword that will help us out with the status of the cheque that we have issued. In the further part of this guide, I have explained how you can use the keyword about which I am talking.
The Process of Checking Cheque Status in Karur Vysya Bank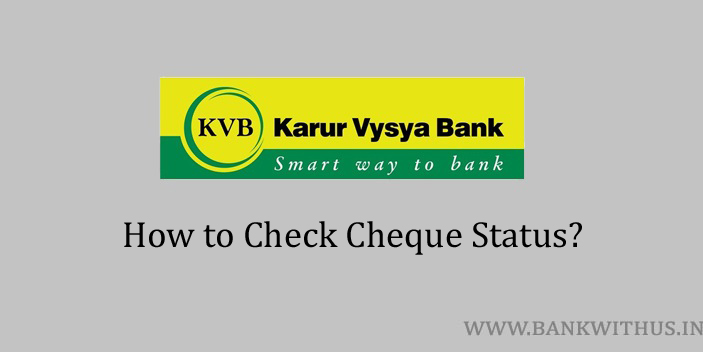 The bank will not charge you anything for this service. This is completely free of cost. But your telecom operator might charge you for the SMS you are sending. If SMSes from your mobile number are free then there is no need to worry. But in either case, standard SMS charges may apply.
Steps to to Check Karur Vysya Bank Cheque Status:
Type an SMS as KVBCHQ.
And send this SMS to 9244770000 using your registered mobile number.
The bank's automated system will check the status.
And you will receive an SMS from the bank containing the status.
The keyword that I have mentioned above is taken from the official website of the bank. But I feel it is incomplete. Because in most of the cases we will have to mention the "Cheque Number" after a space in the SMS.
So first try it as it is mentioned. And in case it does not work. Give a space after the keyword, mention the cheque number and send the SMS.
Conclusion
If you don't know your cheque number then you can find it with the help of your cheque book. For more information call the customer care of KVB on 1860 258 1916.