The mini statement helps us when we want to know the details of the last few transactions of our bank account. We won't be getting many details but just the debit or credit with the amount. But if you want to get the full details of the transactions you have done then you should get the full account statement. In this guide, I will tell you the different methods by following which you can get Karur Vysya Bank mini statement.
Methods to get Karur Vysya Bank Mini Statement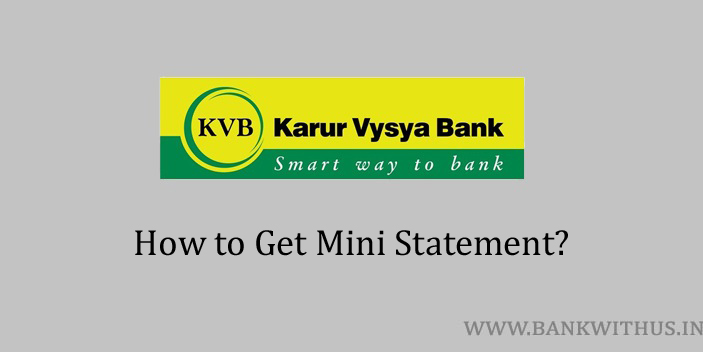 In the statement, you will be able to get the details of your account balance and the last 5 transactions. All the methods to get the mini statement are explained below, choose anyone, and follow the instructions.
Using ATM Machine
Steps to Get Karur Vysya Bank Mini Statement using ATM Machine:
Locate any ATM Machine that is near to your location.
Visit the ATM machine.
Insert your Karur Vysya Bank ATM card into the machine.
Choose the language in which you want to use the machine.
Enter your 4 digits ATM PIN number.
Select the type of bank account you have with Karur Vysya Bank.
Choose the Mini Statement option from the screen of the machine.
The machine will process your request.
And you will get a printed receipt out of the machine which is your statement.
By Giving Missed Call
Steps to Get Karur Vysya Bank Mini Statement by Missed Call:
Give a missed call to 09266292665.
This missed call should be given using your registered mobile number only.
The call will be disconnected automatically after a few rings.
You will get an SMS from the bank containing your statement.
Conclusion
These are the 2 methods to get your mini statement. The fastest method is by giving a missed call to 09266292665. The missed call method is free of cost. But the ATM machine method depends upon the number of ATM transactions you have done.