You should always make sure that your correct information is mentioned in your bank account. I am talking about things like your name, mobile number, address, and of course DOB. In this guide, I will tell you how you can change DOB in Karur Vysya Bank account.
We take the date of birth very lightly. But it is a very important detail of the account holder for the bank. This detail helps the bank to classify the accounts into various categories. And the chances that your DOB is recorded wrong by the bank is very less.
But still, it can happen sometimes if you have the wrong date of birth printed on your identity proof document that you have provided to the bank. In such cases, you can request the bank to correct it. Your request will be processed only if you have a proper proof document with you.
So the first thing you have to do is make sure you have the right identity proof document with you. It can be any document issued by a concerned authority that certifies your date of birth. There is no way you can change this detail online using internet banking or mobile banking.
Instead of that, you will have to write or type an application letter. And submit it by personally visiting your Karur Vysya Bank home branch. I have explained the proper way of writing the application letter and the process in the further part of this guide.
The Process to Change DOB in Karur Vysya Bank Account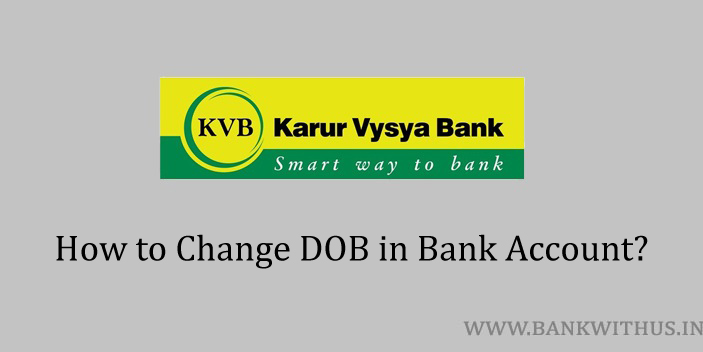 Take a sheet of paper and start writing an application letter.
The letter should address the branch manager of your Karur Vysya Bank home branch.
The subject of the letter should be "Request to Correct DOB in Bank Account".
After the subject line, you have to explain in the body of the letter that your DOB is mentioned wrong in the account. And you want the same to be corrected.
Further, you have to make a clear mention of your account number, your correct date of birth. And most importantly the name of the proof document you have with you.
Now get a clear photocopy of the proof document and make it self-attested by signing it.
Attach your application letter with the photocopy.
Visit the home branch of your Karur Vysya Bank.
Submit the application letter to the bank officials.
Conclusion
While going to the branch carry your original copy of the proof document. The officials will ask you to show it for the purpose of verification. This change you want to make in your account is subject to successful verification by the bank. For more information, you can call customer care on 1860 258 1916.