As an account holder with the bank, you have to make sure that you have properly linked your PAN Card with your account. If you not then you will not be able to use your account without any limits. The bank will limit the amount f transactions you can perform. In this guide, I will tell you how you can link PAN Card with Karur Vysya Bank account.
You can link your PAN Card online and also offline. I have explained both the methods in this guide. You can choose anyone and follow the instructions. If you want to link it online then you will need to have access to your internet banking or mobile banking app. And in case you wish to link it offline. Then you will have to visit your home branch and fill in the application form.
Methods to Link PAN Card with Karur Vysya Bank Account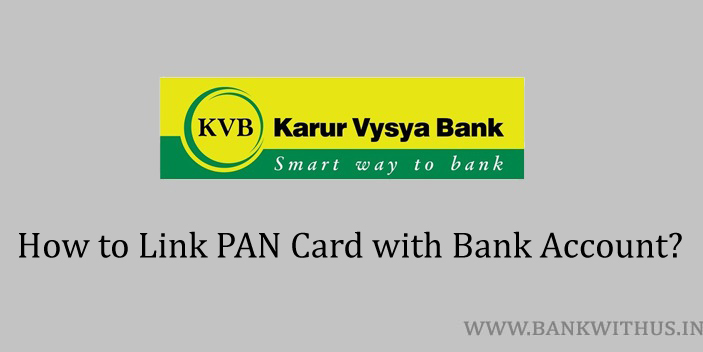 Choose the method and follow the instructions.
Using Mobile Banking App
Steps to Link PAN Card with Karur Vysya Bank Account Online:
Download and Install the official mobile banking app of Karur Vysya Bank.
Open the app and login into your account.
Tap on settings and open the "My Profile" section.
Choose the "Update PAN Card" option.
Enter your PAN Card details and authenticate yourself to complete the change.
By filling out the Application Form
Steps to Link PAN Card with Karur Vysya Bank Account by Visiting Bank:
Take a photocopy of your PAN card and make your signature on it.
Visit your Karur Vysya Bank's home branch.
Speak with the bank officials and tell them that you want to link your PAN Card with the account.
The officials will hand you over with a PAN Card linking application form.
Fill out the form with all the details like your name, account number, PAN number, etc.
Once filled check if you have filled in all the details correctly.
Sign the application form and attach the photocopy with it.
Submit the application form to the bank officials and you are done.
Conclusion
If you wish to use the internet banking method then you can do it. The steps are similar to that of internet banking. You have to use the "My Profile" section of the internet banking portal. If you need more help then you can call the customer care of the bank.