Debit cards or ATM cards are great, they help us to withdraw money and pay the bills both online and offline. But if we lose the card somewhere. Then we should take immediate steps to block the card to avoid unauthorized transactions. Follow this guide to know how you can block IOB ATM Card.
Methods to Block Indian Overseas Bank ATM Card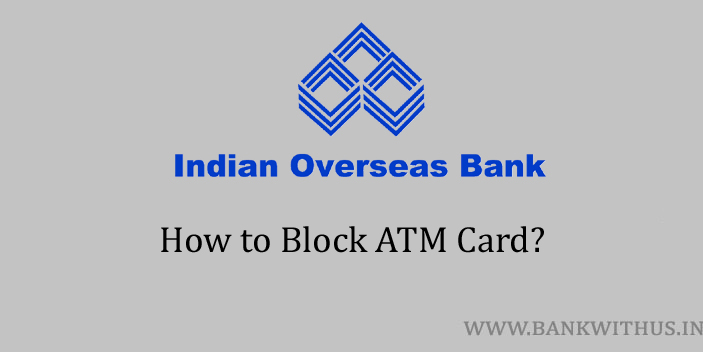 There are both online methods and offline methods available to block your lost or misplaced IOB Card. You can choose any one of these. Just choose a method and follow the instructions to get your card blocked.
By Calling Customer Care
Steps to Block Indian Overseas Bank ATM Card by Calling Customer Care:
Call the customer care of the IOB at 18004254445. (toll-free)
Use IVR options.
Select the language in which you want to interact.
Choose the IVR option to block the ATM Card.
Your call will be connected to speak with one of the customer care executives of the bank.
Tell the executive that you have lost your card and want to block it.
Help out the executive to find your card.
The executive will ask you a few questions about your bank account for verification purposes.
Answer the questions correctly, and the bank will block your card.
Using Internet Banking
Steps to Block Indian Overseas Bank ATM Card Using Internet Banking:
Visit the official website of Indian Overseas Bank.
Solve the captcha and click on the red login button.
Click on IOB Card.
Select IOB Debit Cards from the left sidebar of the internet banking interface.
Click on Suspend Debit Card.
All the debit cards linked to your account will be displayed to you.
Select the card and click on the Block button.
You will receive a confirmation SMS from the bank to your registered mobile number.
By Visiting Home Branch
Steps to Block Indian Overseas Bank ATM Card by Visiting Home Branch:
Visit your Indian Overseas Bank home branch.
Carry an identification proof document with you.
Speak with the bank officials and tell them that you want to block your card.
Provide the details of your card.
Show your identity proof document to the bank officials.
The officials will help you out to block the card immediately.
Conclusion
These are the 3 methods that can be followed by you to block your lost or misplaced ATM Card. Never share your bank account details with anyone. And the bank will never call you to ask for such details.