You can get the Indian Overseas Bank mini statement by sending an SMS. Type Mini <space> Last 4 Digits of your Bank Account Number and send it to 84240 22122. This SMS should be sent from your registered mobile number only. The bank will send you an SMS containing your statement of the last 5 transactions.
This is just one method using which you can get your IOB statement. But there are other methods too. In this guide, I have explained all the methods that can be followed by the account holders of the IOB to get this compressed version of the bank account statement.
Methods to get IOB Mini Statement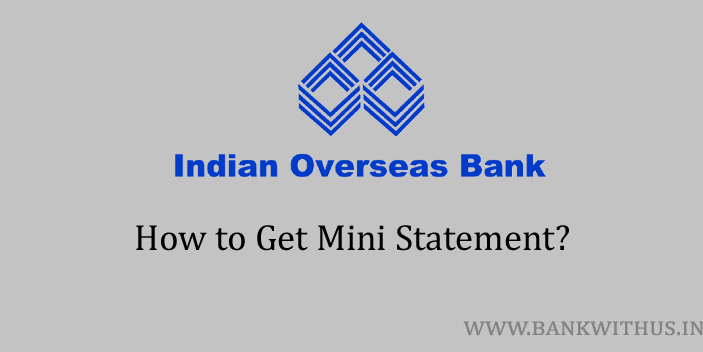 There are both online methods and offline methods to get your statement. I have explained all the methods below. Choose any one method and follow the instructions provided below.
Using the IOB Mobile Banking App
Steps to Get Indian Overseas Bank Mini Statement Using Mobile Banking App:
Download and Install the official IOB mobile banking app.
If you are an Android user install it from Google PlayStore.
In the case of Apple, users install it from iTunes Store.
Open the app.
You will be taken to the Dashboard of the app.
Select your account from the list of bank accounts.
After selecting the account tap on Mini Statement.
The statement of the selected app will be displayed to you on the screen.
Using ATM Machine
Steps to Get Indian Overseas Bank Mini Statement Using ATM Machine:
Locate any ATM machine that is near to your location.
Visit the ATM machine.
Insert your ATM card into the machine.
Choose the language in which you want to use the machine.
Enter your 4 digits PIN number.
Select Mini Statement from the screen of the machine.
Choose the type of account you have with IOB. (savings or current)
The machine will process your request.
You will get a printed receipt out of the machine which is nothing but your statement.
Conclusion
These are the 3 methods by following which you can get the mini statement. The bank officials will never call you to ask for the details like username, password, OTP, CVV, debit card number, etc. If you ever receive such calls or emails or SMS you should never respond to them. For more details call the customer care of the bank at 1800 425 4445 (toll-free) and speak with the customer care executive.