Give a missed call to 9223501111 from your registered mobile number and you will receive your Saraswat Bank mini statement via SMS.
Mini Statement and Account Statement are two different things. But there are two similarities in these two. The first one is you can know the remaining balance in your account. And the second one is you can get to know about the last few transactions that took place in your bank account. In this guide, I will tell you how you can get this statement in Saraswat Bank.
This guide is for those account holders of the Saraswat Bank who are looking online for the steps they need to follow to get the mini statement. Before I start writing any guide on my website. I make sure that I do research on the topic and find some important things I can share with my readers. But when I came to know that there is very little information available about Saraswat Bank's Mini Statement.
Then I looked into the official website of the Saraswat Bank on which I found 3 methods using which you can get the mini statement of your bank account. I have explained all those 3 methods in this guide of mine. You can use any one of them to get your statement. But before that, I would like to share a few things about the bank. Saraswat Bank is an example that any bank can grow big if they serve their customers in a good way.
About Saraswat Bank

Methods to Get Mini Statement in Saraswat Bank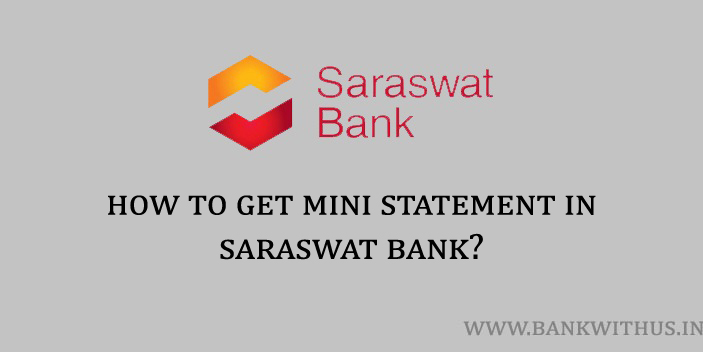 All three methods to get the mini statements are discussed below.
Using ATM Machine
Steps to Get Mini Statement in Saraswat Bank Using ATM Machine:
Locate any ATM Machine which is near to your location.
Insert your ATM card into the machine.
Select the language in which you would like to use the machine.
Enter your 4 digits ATM PIN number.
Select the mini statement option.
You will get your statement's receipt.
Using Missed Call Banking
Steps to Get Mini Statement in Saraswat Bank by Giving Missed Call:
By Sending SMS
Steps to Get Mini Statement in Saraswat Bank by Sending SMS:
Type SMS as LST5 <space> 15 Digits Bank Account Number
And send it to 9223810000 from your registered mobile number.
You will receive the statement from the bank.
Conclusion
While using the SMS banking for the purpose of getting the mini statement you may be charged for the SMS by your telecom operator. And if you are using the ATM Machine then it depends upon how many times you have already used the ATM card during the month. If you have already used up the free usage then you will be charged for that as well. So it is better to use the missed call method to get the statement of your Saraswat Bank account.