SBI or State Bank of India is the largest bank that is operating in India. SBI is considered as one of the best as well as the safest banks in India. Technology-wise this bank does not leave any stone unturned. If you are an SBI account holder then you can use all the Hitech features of the bank.
Yono is one of the features of the bank on which the State Bank of India stresses a lot. It is an amazing feature. Everyone knows that Yono can be used on the smartphone by installing the official mobile banking application. But do you know that you can use SBI Yono on Computer or laptop?
Yes, you can use this on your computer. This guide will help you out with the procedure that you need to follow if you want to use this amazing feature of the bank on your desktop or laptop computer. In this guide, I will not ask you to download and install the android application on your PC.
Instead, we will use the SBI's Yono web portal to access this feature. It is not safe to run the android application on your computer using android emulators. If you are using such software to run any banking applications on your computer. Then I recommend you stop doing that.
When it comes to banking the first priority should be for the safety and privacy of your bank account. You have to make sure that you never share your details like username, password, CVV, and OTP with anyone. And no one from the State Bank of India will ever contact you to ask these details.
How Can You Use SBI Yono on a Desktop or Laptop Computer?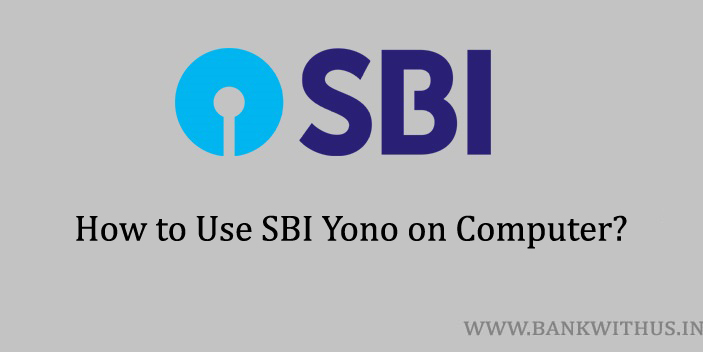 Follow the instructions given below to use SBI Yono on your desktop or laptop computer. But before you start make sure you have antivirus software installed and running on your computer. It is risky to access your bank account online without an antivirus.
Steps to Use SBI Yono on Computer:
Visit the official website of State Bank of India.
Under Personal Banking select Yono by SBI.
You will be redirected to Official Yono's website.
Click on the Login button.
Enable virtual keyboard for more security.
Enter your internet banking username and password.
After entering your details click on the Login button.
You will be taken to My Portal. (Account's Overview)
Now start using Yono on your desktop or laptop computer.
Conclusion
This is how you can use SBI Yono on Computer and it's features like Yono Cash. You should never enter your details on any third-party websites. And avoid using banking applications on public wifi. For more details call the customer care of SBI on their toll-free number: 1800 425 3800 and speak with the customer care executive.