Do you want to activate SBI ATM Card? Then you have been landed on the right page here. Because I will tell you how you can activate the debit card.
State Bank of India is the biggest bank that is currently operating in India. This is a state owned bank that means it is being run by the Government of India.
When there is any kind of companies no matter what actually they do. We get to hear both negative and positive things about it. I am a customer of State Bank of India from last 3 years and I have not faced any kind of serious issue with their services.
The only thing I hate is when I use my SBI Debit card in any other ATM machine which is not owned by them. I don't get the SMS notification quickly.
Sometimes I receive it after 20 minutes or sometimes I never receive it. Other than this issue I have not faced any kind of issues.
As you are looking for a guide to activate SBI ATM Card you may have just opened the bank account with them. I hope you will have a great banking experience with the bank. 🙂
So now let us get started with this guide and check out how you can activate the debit card. Even if you are searching for SBI ATM PIN Not received then you can perform SBI Debit card PIN generation by referring this guide.
How to Activate SBI ATM Card? (SBI Debit Card PIN Generation)
So there are two methods by which you can activate SBI ATM Card. And they are as follows.
Generating ATM PIN by SMS.
Generating ATM PIN using Internet banking.
When we open the bank account with the State Bank of India we receive the ATM card or debit card with the welcome kit.
The ATM Card comes attached with a sheet of paper which is shown below.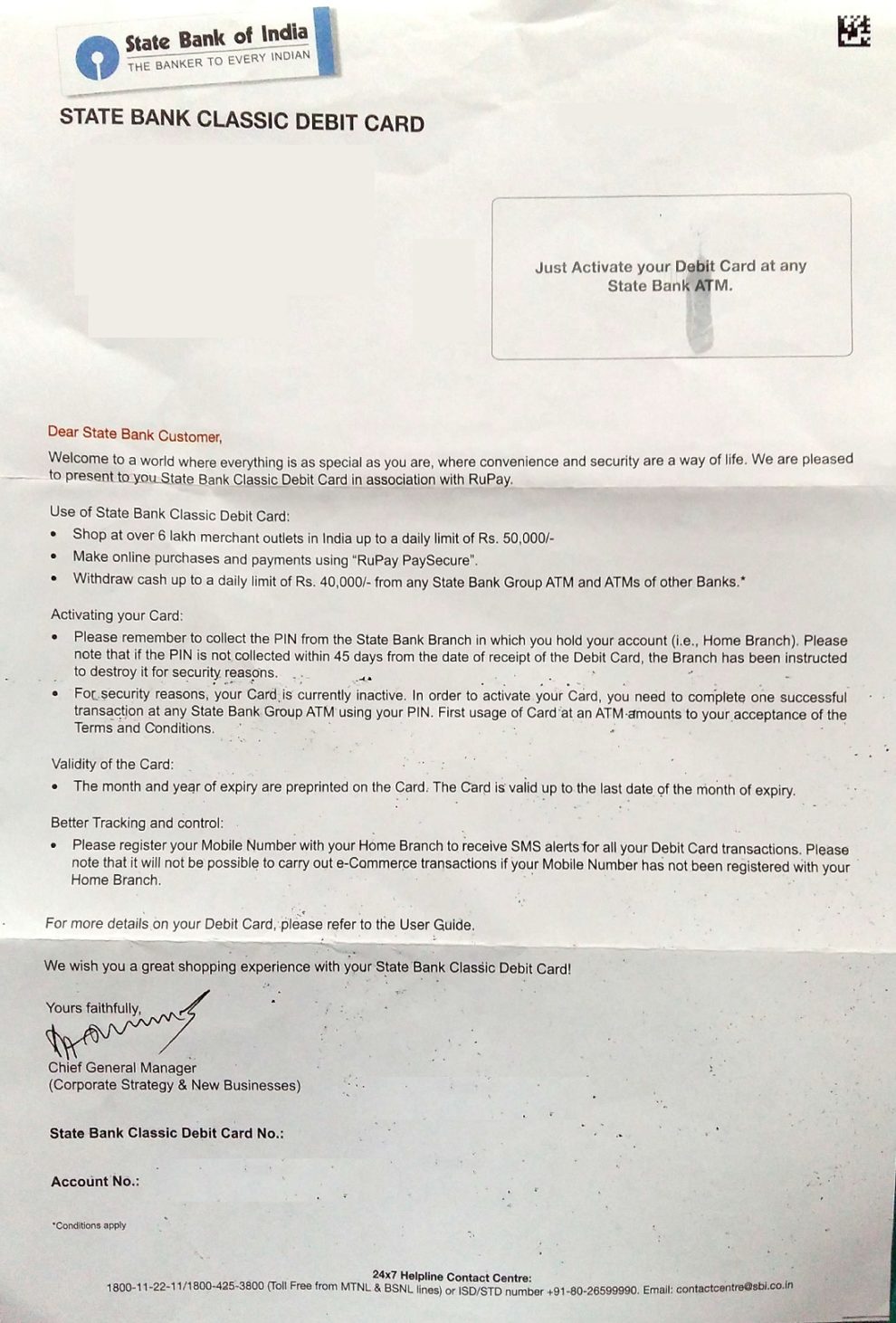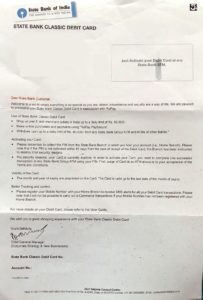 The ATM Card of your State Bank of India account will be sticked on this sheet of paper. You just have to peel it off and activate it.
Here you should know one thing and that is activating the card in the sense you have to generate ATM pin number that's it.
Once you generate the ATM pin number and use the card in any of the State Bank of India ATM machine your card will be activated.
We can even say that the main subject of this guide is about the SBI Debit Card PIN generation. 🙂
Generating ATM Pin by Sending SMS
The first method by which you can generate pin number is by sending an SMS. But this SMS has to be send from your registered mobile number only.
If you send the SMS from a mobile number that is not associated or registered with your bank account. Then you can't generate the pin.
Type the SMS as SWON ATM XXXX
Here you have to replace the XXXX with the last 4 digits of your debit card number.
For example, your SBI debit card number is 1234-5678-0123-4567 then you have to type the SMS as SWON ATM 4567 and send it to 09223966666.
The number which is mentioned above is the official number which is provided by the bank.
After few minutes normally 2 minutes you will receive an SMS from the bank. In that SMS you will find your temporary ATM pin number.
Now visit any of the State Bank of India ATM center that is near to your location and change the ATM Pin number. That is all you have to do to activate SBI ATM Card.
Generating ATM Pin by Using Internet Banking
To go with this method you should have activated internet banking for your bank account. If you have not activated it then you can read my guide to activate internet banking in SBI.
While the first method will help us to generate the ATM Pin number directly. But in the case of this method, you have to first activate the card.
We get an option in the internet banking which lets us activate SBI ATM card.
The first thing you have to do is open the official website of the State Bank of India and login to your internet banking account.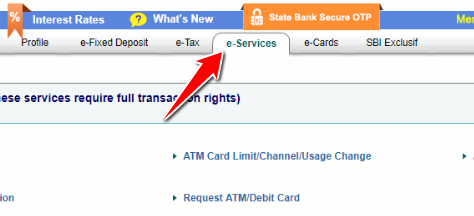 Click on e-services option which you can find on the upper menu of the internet banking interface.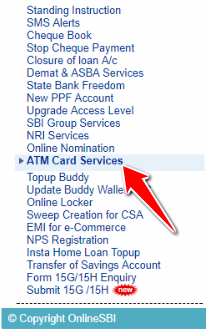 You will get all the e-services list which are available in the internet banking facility. From the left sidebar of the interface click on ATM Card Services.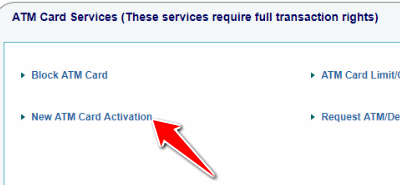 After that click on New ATM Card Activation link. The system will now ask you to enter the debit card number twice, enter it and click on activate button.
So these are the two methods by following which you can activate SBI ATM card. I hope you are clear with all the information that is mentioned in this guide. If you have any kind of doubt then you can comment down below.