MOD is a short form for the Multi Option Deposit account. When the limit of your Savings Bank account exceeds your balance will be transferred to Multi Option Deposit Account. There is no need to worry because you have not lost the money. It is still there in your State Bank of India account but as MOD Balance. You should also know that the interest rate you will be getting on your MOD balance will be higher than that of what you get on savings bank account balance.
This guide will help you out to check MOD Balance in SBI online. The steps are very simple. But the thing is when your balance is moved to the MOD account. You will see a decrease in the Savings Bank Account balance. In such a case, the account holder will get panic. This is quite normal but doesn't worry there are fewer chances for unauthorized transactions. Provided you have never shared your username, password, and OTP with anybody. I will tell you how you can check your MOD balance using the internet banking portal of the bank.
About State Bank of India


Headquarters
Mumbai
Formerly Known As
Imperial Bank of India
Founded On
1st July 1955
Type of Bank
Public Sector Bank
Chairman (Augusr 2020)
Ranjnish Kumar
Owner
Government of India
Number of Employees
257,252 (March 2019)
Owner of the Bank
Government of India
Official Website
sbi.co.in
Revenue (2019)
 

₹2.79644 trillion

Operating Income (2019)
₹554.36 billion
Net Income (2019)
₹8.62 billion
Total Assets (2019)
₹36.80914 trillion
Customer Care (toll-free)
1800 425 3800
Steps to Check MOD Balance in State Bank of India Online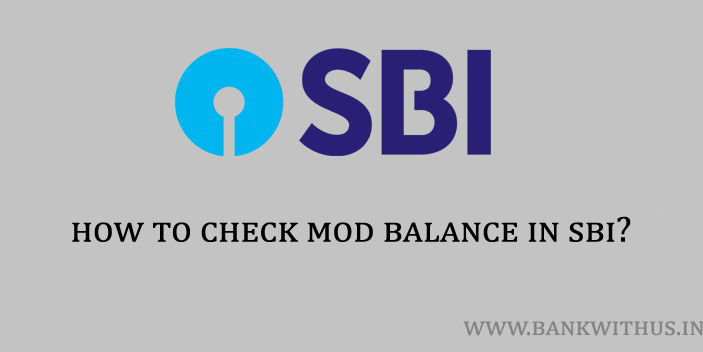 Before you start following the instructions given below you need to activate the internet banking facility on your account.
Steps to Check MOD Balance in SBI:
Open the official website of the State Bank of India
Click on Login in the Personal Banking Section.
Enter your Username.
Enter your Password.
Solve the Captcha and Click on the Login button.
All your SBI accounts will be displayed to you.

Choose the account and click on "Click here for the Last 10 Transactions."

The MOD Balance in the selected bank account will be displayed to you on the screen.
Conclusion
This is how you can check MOD balance in SBI online. If you are facing any kind of difficulties then you can speak with the customer care executive of the bank. Just give them a call on 1800 425 3800 and you will be assisted by the customer care of the State Bank of India.