There different types of account statements that can be requested by the bank. One such statement is the mini statement. This will contact the last 3 or 5 transactions that happened in your bank account. In this guide of mine, I will tell you the different methods by following which you can get Kotak Mahindra Bank mini statement.
There are both online methods and offline methods explained in this guide. You can choose the method which you feel is easy for you. And follow the instructions. Please keep in mind that the bank will not charge you anything to send the mini statement.
But if you are using the ATM machine method to get the statement. And have already used up all the free usage for the month. Then there are chances that the bank will charge you when you use the ATM machine to get your statement. To know more you can refer to the general schedule of features and charges of the bank.
Methods to Get Kotak Mahindra Bank Mini Statement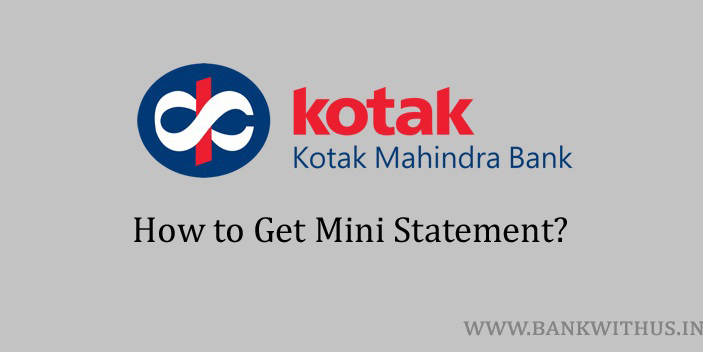 Choose any method below and follow the instructions.
Using ATM Machine
Steps to Get Kotak Mahindra Bank Mini Statement using ATM Machine:
Find the ATM machine that is nearest to your current location.
Visit the ATM machine.
Insert your ATM card into the machine.
Choose the language in which you would like to use the machine.
Enter your PIN number into the machine.
Select "Banking" from the screen of the machine.
Choose the "Mini Statement" option.
Select the type of account you hold with Kotak Mahindra Bank.
The machine will process your request, and you will get a printed receipt of the mini statement.
By Sending SMS
Steps to Get Kotak Mahindra Bank Mini Statement by SMS:
Using the Official Website of the Bank
Steps to Get Kotak Mahindra Bank Mini Statement using Official Website:
Open the Account Statement and Mini Statement page of Kotak Mahindra's official website.
Enter your registered mobile number and DOB or your CRN number.
Click on the "Send OTP" button.
The bank will send you an OTP on your registered mobile number.
Enter the OTP correctly.
You will get your requested statement on the screen.
Conclusion
These are the different methods that you can follow to get your mini statement. For more details, you can call the customer care of the bank on 1860 266 2666 and speak with the customer care executive of the bank.