When you go to any bank to open a new account with them. The banks these days ask for a number of details of us. This includes our mobile number, Aadhaar Card number, PAN Card number, etc. And along with these numbers, we also need to provide our postal address as well as the email address for communication. But what if you have not given your email address to the bank or want to update it? If that is the case you can update it in your bank account. In this guide, I will tell you how you can update Email Address in IndusInd Bank account.
Methods to Update Email Address in IndusInd Bank Account
There is an offline method in which you need to visit your IndusInd Bank home branch. And the other method is online using the official mobile banking app of the bank. I have explained both the methods below. You can choose anyone and follow the instructions.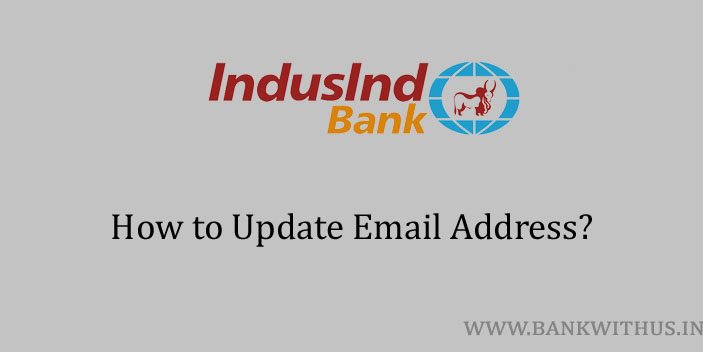 Using Mobile Banking App
Steps to to Update Email Address in IndusInd Bank Account Online:
Download and Install the official mobile banking app of IndusInd Bank.
Open the app after installation.
Enter your login details into the app.
If you are already using the app on your device then enter your MPIN or touch your fingerprint.
Tap on " Service Requests" from the dashboard of the app.
Choose "Account Requests" from the next screen.
Select "Update Email Address".
Select your Customer ID and tap on the "Proceed" button.
Enter your Email ID and follow the on-screen instructions given in the app.
By Visiting Home Branch
Steps to to Update Email Address in IndusInd Bank Account by Visiting Home Branch:
Take any of your identity proof documents with you.
Visit your IndusInd Bank home branch.
Tell the bank officials that you want to update your Email Address in your account.
Show your identity proof document to the officials to confirm your identity as the owner of the account.
The officials will take your updated email address from you.
And the same will be updated in your account within 2 working days.
In some cases, the officials may ask you to submit the request in written form.
Conclusion
This is how simple it is to update your email address in the bank account. If you need instant assistance or more information about the same. Then you can reach the customer care of the bank by calling them on 1860 267 7777. The support executive of the IndusInd Bank will be more than happy to help you out.