IndusInd Bank is one of those banks of India which stress innovating things for the account holders. And you are a part of this bank I assume. That is because you want to get your IndusInd Bank mini statement. And if that is the case then I am here to help you out.
There are multiple methods to get the statement and you can do this online as well as offline. I have explained multiple methods. You can choose any method and follow the provided instructions. But keep in mind that you should not share your account details like username, password, pin number, etc. with anyone.
Methods to Get IndusInd Bank Mini Statement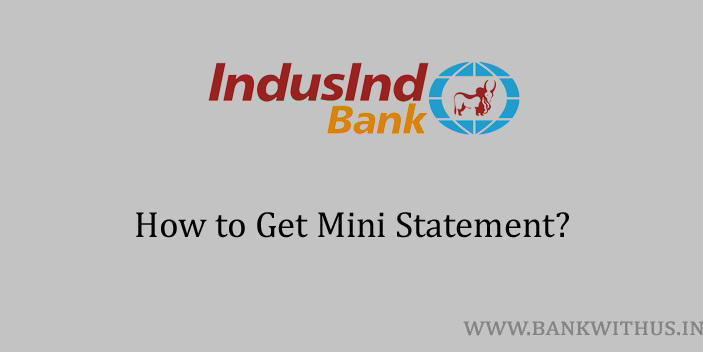 Choose any method.
Using ATM Machine
Steps to Get IndusInd Bank Mini Statement using ATM Machine:
Find any ATM Machine that is near your location.
Visit the ATM Machine.
Insert your ATM card into the machine.
Select the language in which you want to use the machine.
Enter your 4 digits PIN number.
Choose the type of account you have with the bank.
Select "Mini Statement" from the screen of the machine.
The machine will process your request.
You will get a printed receipt out of the machine which is nothing but your statement.
Using Mobile Banking App
Steps to Get IndusInd Bank Mini Statement using Mobile Banking App:
 Download and Install the official mobile banking app of IndusInd Bank.
Open the app after installation.
Enter your login details.
Once you have logged in tap on "Mini Statement" from the home screen.
Select between List View or Calender or Chart.
Your statement will be displayed in the form you have selected.
Conclusion
These are the two methods using which you can get your mini statement. All the recent transactions along with your balance will be mentioned in the statement. If you just want to check the balance then you can simply give a missed call to 18002741000 from your registered mobile number.