If you have decided to stop the payment of the cheque that you have already issued. Then you can do that, but I recommend you to stop the payment only if you have a proper reason. If not then you should not do it. In this guide, I will share an online method and an offline method to stop cheque payment in IndusInd Bank.
Basically, here you are ordering the bank not to honor the cheque. But to do it you will need the cheque number. Refer to your cheque book to find the number. And the other thing is the bank may charge you for this service. So you should first contact the bank and ask about the charges.
And then you can proceed to use this service and get the payment stopped. But also keep in mind that the payment can be stopped only if the cheque is not cleared yet. If you can already see a debit transaction in your bank account. Then it means the cheque has been cleared already and can not be stopped by the bank.
Methods to Stop Cheque Payment in IndusInd Bank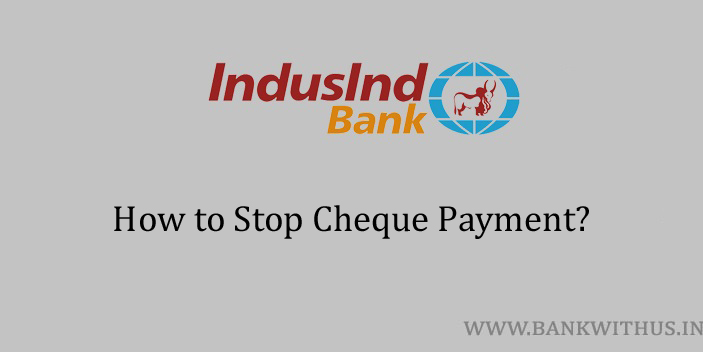 Choose any method and follow the instructions.
Using Internet Banking
Steps to Stop Cheque Payment in IndusInd Bank using Internet Banking:
Visit the official website of IndusInd Bank.
Click on Login and select the Netbanking option.
Enter your username, password, and click on the Sign-in button.
Select "Savings and Current Account" from the Netbanking interface.
Choose "Cheque Related services".
Now select "Stop Cheque Request".
Select "Single or Multiple" as per your requirements.
Choose the reason and click on the "Submit" button.
And follow the on-screen instructions to stop the payment.
By Visiting Home Branch
Steps to Stop Cheque Payment in IndusInd Bank by Visiting Home Branch:
Visit your IndusInd Bank home branch.
Take your cheque book with you.
Speak with the bank officials and tell them that you want to stop the payment of a cheque.
Show your identity proof document to the bank officials. (Aadhaar Card or PAN Card)
Provide the details of the cheque.
The officials will tell you about the charges. (if any)
Tell the officials if you are ok with the charges.
The officials will take the request on your behalf or assist you to do it yourself.
And your payment will be stopped.
Conclusion
This is how you can stop the payment of the cheque that you have issued. Always keep in mind that you should never share your username, password, debit card number, or PIN with anyone. And the officials from the bank will never contact you asking for such details. For more information call the customer care of the bank on 1860 267 7777 and speak with the executive of the bank.
References:
https://www.youtube.com/watch?v=8PMH1xKnvvk