There are a lot of reasons why you should keep your address up to date in your bank account. If you have changed the place where you live. And you have the proper proof documents. Then you should request the bank to update your address. In this guide, I will tell you how you can change address in IndusInd Bank account.
Before we get started let us first understand the basic concept involved in this address change. You being the account holder have changed the place where you reside or live. And now you want to update your new address in the bank records of IndusInd Bank.
Being the account holder you can request the bank. But the important thing is the bank will take your request only if you have a proper proof document. You should have the document issued by the concerned authority which has your new address printed on it.
Now the question is why does the bank request a proof document?
That is because the address of the account holder is a very important detail of KYC. And when it comes to the KYC details all the banks in India are very strict about it.
I don't have an address proof document what should I do?
You can take your time and get your new address proof document. Later you can start with the process of changing it in your bank account.
Do I have to submit the original copy of the document to the bank?
No, you just have to submit a photocopy of the document with your signature on it. The banks never collect your original copy and keep it until extremely necessary.
The Process of Updating Address in IndusInd Bank Account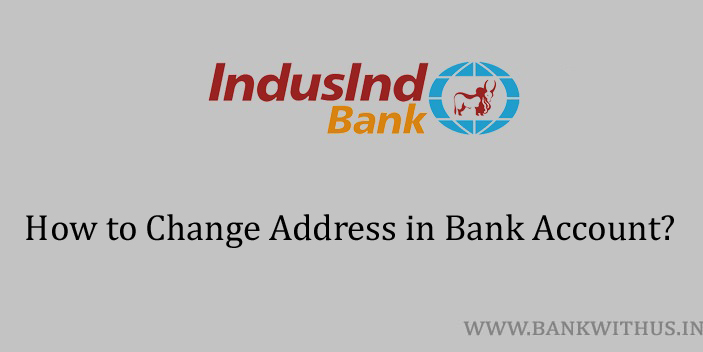 Follow the instructions given below.
Steps to Change Address in IndusInd Bank Account:
Take a sheet of paper and start writing an application letter.
The letter you are writing should address the branch manager of your IndusInd Bank's home branch.
Mention the subject of the letter as "Request for Change of Address in Bank Account".
Further, you have to mention your name, account number, and new address.
After that mention the name of the address proof document you are submitting to the bank.
Now get a clear photocopy of the document and make your signature on it.
Attach your photocopy with your application letter.
Visit your IndusInd Bank's home branch with your application letter and original copy of the document.
Submit the application letter along with the photocopy to the bank officials.
Conclusion
The address change in your account is with respect to the successful verification of your document by the bank. So while going to the bank you should carry the original copy with you.