If you have changed your name legally in India or in case of name change after marriage. Then you have an option to update your new name in your bank account. The process is simple but you will be able to change it only if you have proper proof documents. In this guide, I will tell you how you can change Name in IndusInd Bank account.
As I have already mentioned that you will be able to change the name only if you provide proper documents to the bank. In case you are married then you can submit your marriage certificate. And in case if you have changed your name legally then you can provide documents like Gazette notification.
With proper documents to support the change, you won't face any difficulties. In some cases, I have observed that the account holder's name is misspelled in the account. If this is true in your case then you can provide your identity proof document in which your name is spelled right as the proof. (Aadhaar Card, Passport, Driving License, etc.)
Even after you submit the proof document the bank will verify those. And if found true then only your name will be updated in the bank records. All these things are time-consuming but these are important because the name of the account holder is a very crucial detail of KYC.
Steps to Change Name in IndusInd Bank Account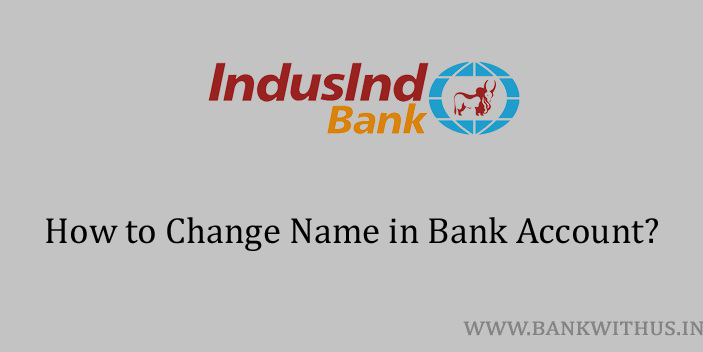 There is no online method to change your name in the bank account. So you will have to follow the offline method only. The steps of the offline method are explained below.
Steps to Change Name in IndusInd Bank Account:
Take a sheet of paper.
Start writing an application letter addressing the branch manager of your IndusInd Bank home branch.
The subject of the letter should be "Change of Name in Bank Account".
In the body section of the letter explain that you have changed your name. And want to update the same in the bank account.
Mention your old name, new name, and bank account number clearly.
At the end of the letter mention the name of the document you are providing as proof. (enclosure)
Take a clear photocopy of the proof document and make your signature on it.
Attach the application letter and the photocopy together.
Visit your IndusInd Bank home branch and submit the application letter to the bank officials.
Conclusion
While visiting the branch of the bank make sure you carry the original copy of the proof document with you. The officials will ask you to show it for verification purposes. And if the bank gives you an application form to fill for this change then fill and submit it. (replacing the handwritten application letter) For more details call the customer care of IndusInd Bank on 18602677777. And speak with the support executive of the bank.