These days we get a debit card which is also called an ATM card with every account we open. Of course, there are some type of accounts which only offer virtual debit cards. But that is another part of the story. In this guide, I will tell you how you can enable or activate IndusInd Bank debit card for international usage.
For the security of the account holder, IndusInd Bank disables this feature for all debit cards. You can activate this whenever you want and deactivate it when you don't want to use it. And these settings can be changed for free of cost. The bank will not charge you anything for this change.
You first have to check if your debit card is eligible for use internationally. There are some cards which are old and they can not be used in other countries. Once you activate international usage of your card, you can use it online on sites like PayPal as well.
Methods to Activate IndusInd Bank Debit Card for International Usage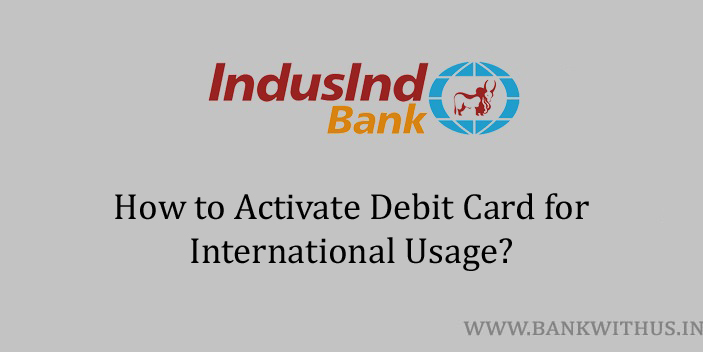 I have explained the two methods below, and they are online methods and not offline methods. choose any method and follow the instructions.
Using Mobile Banking App
Steps to Activate IndusInd Bank Debit Card for International Usage using Mobile Banking App:
Download and Install the official mobile banking app of IndusInd Bank.
Open Indus Mobile after installation.
Enter your login details into the app.
After you login into your account tap on "Debit Cards".
Select the debit card which you want to activate for international usage.
Tap on "Manage Limits".
From the next screen tap on "International".
Toggle the button to "Enable".
Set the transaction limits and tap on the "Update Limits Button".
Using Internet Banking
Steps to Activate IndusInd Bank Debit Card for International Usage using IndusNet:
Visit the official website of the IndusInd Bank.
Click on the "Login" button.
Enter your username, password, and click on the "Sign In" button.
Click on "Service Request" from the top menu of the IndusNet interface.
Select "Debit Card Requests" from the left sidebar of the interface.
Click on "Debit Card Limit Management" under requests.
Select your debit card number from the drop-down menu.
Click on "Edit Debit Card Limit".
Enable the required international usage, set the limits, and click on the "Submit" button.
Conclusion
If you feel comfortable with the mobile banking app then use it. Or else you make use of IndusNet. But please make sure that you are always using the official mobile banking app and the official website of the bank while making any kind of changes to the account. You should always avoid sharing your details on third-party websites and apps. For more information call the customer care of IndusInd Bank on 18602677777 and speak with the executive.