It is mandatory to link or update your Aadhaar Card number with your bank account. Your account will be considered as the one with complete KYC only if you have updated these details with your bank. But what if you have not done it yet? Can you do it by yourself? Yes, you can update it by yourself. In this guide, I will tell you how you can update or link Aadhaar Card with IndusInd Bank account.
The most common method of liking is to visit your IndusInd Bank home branch. Collect an Aadhaar Card seeding form from the bank officials. Fill the form with all the required details and attach a photocopy of your card to the application form. And at last, submit the duly filled form to the bank officials. Your request will be processed by them. This is the offline method, other than this method I have explained 2 more in the further part of this guide.
Methods to Link Aadhaar Card with IndusInd Bank Account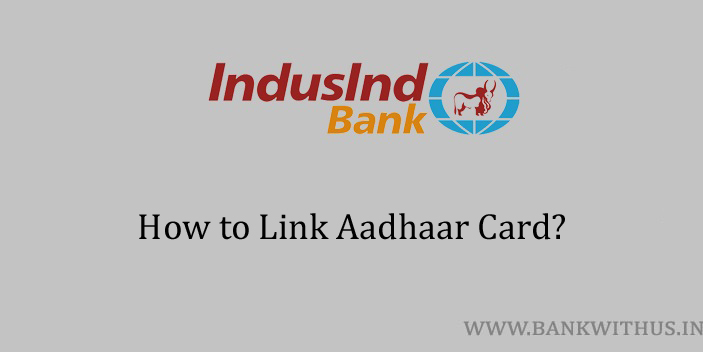 There are not many banks that allow their customers to seed the Aadhaar card with the account via SMS. IndusInd Bank is one of such banks in India. The first method explained below is by sending an SMS. And the second method is by using the official mobile banking application of the bank. (online method) Choose any method and follow the instructions given below.
By Sending SMS
Steps to Link Aadhaar Card with IndusInd Bank Account by Sending SMS:
Type an SMS as SEED <space> Bank Account Number <space> Aadhaar Card Number.
Send this SMS to 5676757 from your registered mobile number.
The bank will take your request and you will get the confirmation SMS about the same.
Using Mobile Banking App
Steps to Link Aadhaar Card with IndusInd Bank Account Using Mobile Banking App:
Download and Install the official mobile banking app of IndusInd Bank.
Open the app after installation.
Enter your login details into the app.
If you are already using the app then open it and enter your MPIN or touch your fingerprint.
Tap on "Service Request" from the Dashboard of the app.
Select "Account Request".
Choose "Update Aadhaar Card" from the requests menu.
Choose your bank account number.
Enter your Aadhaar Card number and follow the on-screen instructions.
Conclusion
In the 9th step of the mobile banking method, you will get two options. This selection you do in this step is directly connected to the direct benefit transfer you receive from the Government of India. Be careful before you choose it and once you do tap on the green "Update" button. For more information, you can call the customer care of the bank on 1860 267 7777. The support executive of the bank will be able to assist you.