We have different types of banks operating in India and that again we have a number of banks to choose from. What I mean is there is high competition in the Indian banking sector. And when the competition is high the ultimate winner is always the customer. In this case, where we are talking about the banking sector it is the account holder who is the winner. In this guide of mine, I will tell you how you can check monthly average balance of IndusInd Bank account.
Here you should know that this is also termed MAB. And there is a misconception among people about this balance. It is not the minimum balance that you have to maintain in your bank account. Instead, it is all about the average balance that you maintain in your IndusInd Bank account throughout the month. If in case you fail to maintain the said balance the bank will charge you some fees. This fee is nothing but the penalty that is applied to you for the non-maintenance of the balance.
Steps to Check IndusInd Bank Account Monthly Average Balance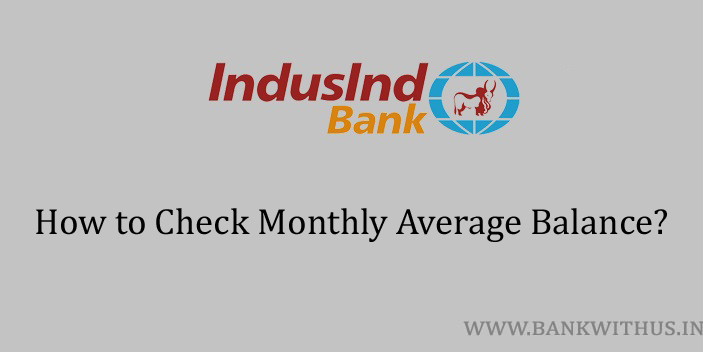 The MAB that you should maintain in the account depends upon the type of account you hold with the bank. To check your MAB there is no need to follow any offline method like visiting the home branch of your bank. You can check it online using the internet banking service of the bank. (IndusNet)
Steps to Check Monthly Average Balance of IndusInd Bank Account:
Visit the official website of the IndusInd Bank.

Click on the "Login" button.
Click on the "Sign In" button.

Under the accounts section of the interface scroll down to find "Savings &Current Accounts".

Click on your bank account number there.
You will find a table on your screen which contains various information about your bank account.
Look for Monthly Average Balance in that table.

Click on "Fetch Details" to know your MAB.

Conclusion
This is a very simple method to check if you have maintained the required amount of average balance in your IndusInd Bank account for any given month. If you are facing any kind of difficulties then you can call customer care on 18602677777. And ask the bank's customer care executive to tell you your balance for the month. The executive will ask you a few details about the account for verification purposes. Once verified the executive will provide you the details.