There is a difference between a debit card and an ATM Card. But normally people think they are one and the same. Well, let us not discuss that. Because in this guide I will tell you how you can change IndusInd Bank debit card PIN.
You can change your PIN online with the help of the internet banking service and also using the mobile banking app. I have explained both the methods below. Choose any method and follow the instructions.
Methods to Change IndusInd Bank Debit Card PIN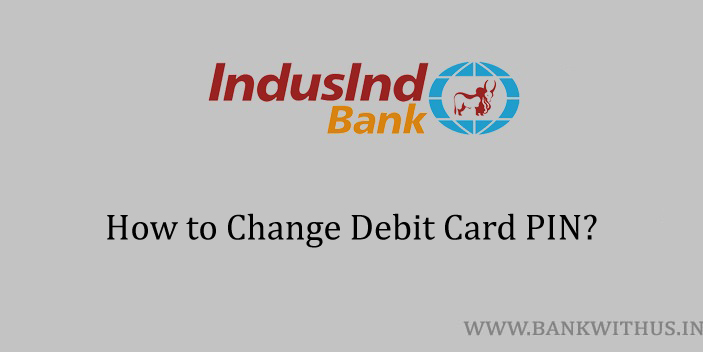 If you wish to use the internet banking method. Then you should have access to your internet banking account. If you don't have it then activate your internet banking account first.
And if you want to use the mobile banking method. Then you will have to install the official mobile banking app of the bank. The app is available for both Android and iOS users.
Using Mobile Banking App
Download and Install the official mobile banking app of IndusInd Bank.
Open the app after installation.
Login to your account.
Open the menu of the app and tap on "Service Request".
 Select "Card Requests" → "Debit Card".
Now choose the debit card whose PIN you want to change.
Tap on "Set/Reset PIN".
Validate yourself by entering your card details or PAN number.
Now set the new PIN for your debit card and confirm the same.
Using Internet Banking
Open the official website of IndusInd Bank.
Login to your account.
Click on "Cards" → "Debit Cards".
Select your bank account number and click on "Go".
Choose your debit card whose PIN you wish to change.
Click on "Debit Card PIN Change".
Enter your card details and click on "Submit".
Now set your new debit card PIN.
Re-enter the same and "Confirm" the changes.
Conclusion
You can also use any ATM machine of IndusInd Bank to change your debit card PIN. No matter which method you use. There is one thing you should always keep in mind. And that is you should never share your card details with anyone. No one from the  bank will ever contact you asking such details.