There was a time in India when people were allowed to open a new bank account with minimum documents. But these days the banking industry has framed a few rules and these rules contain some documents. So now if you open and maintain your bank account then you should provide all these documents to the bank. However, the banks don't ask for any complicated and high-level documents. I am talking about the Aadhaar Card and PAN Card. In this guide, I will tell you how you can update PAN Card in your IndusInd Bank account.
The process is very simple, and I am very sure you will get the work done very easily. I am also very sure that you might have heard of the term "KYC" and the Aadhaar card and the PAN Card are very important KYC documents. If you want to take full advantage of your IndusInd Bank account then you will have to provide these two documents to the bank. Now many people think that the banks take your original copy of the documents. But let me tell you that it is not true. You only need to provide a self-attested photocopy of the document.
Methods to Update PAN Card Details in IndusInd Bank Account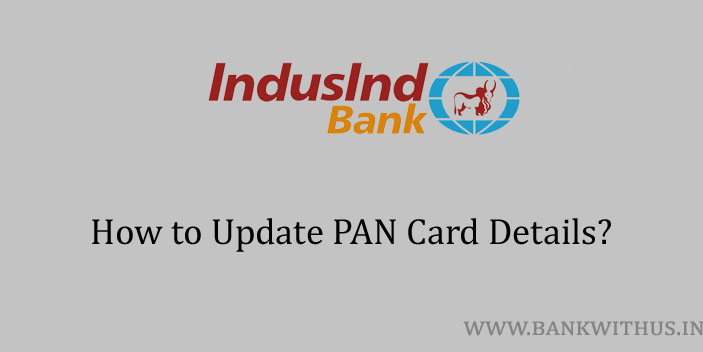 Basically, you can update your PAN Card details online as well as offline. I have explained methods that fall under both categories. You can choose any one method and follow the given instructions.
By Visiting Home Branch
Steps to Update PAN Card in IndusInd Bank Account by Visiting Home Branch:
Take out your original PAN Card.
Get a clear photocopy of your PAN Card.
Make your signature on the photocopy to make it valid and self-attested.
Visit your IndusInd Bank home branch.
Go to the helpdesk of the branch.
Tell the bank officials at the counter that you want to update your PAN Card details with the account.
Collect a PAN Card seeding application form.
Fill the PAN card seeding application form with your name, account number, and PAN Card number.
Attach the form with the photocopy and submit both of them to the officials.
Using Mobile Banking App
Steps to Update PAN Card in IndusInd Bank Account Using Mobile Banking App:
Download and Install the official mobile banking app of IndusInd Bank.
Open the app after installation.
Enter your login details into the app.
Tap on "Service Requests" from the dashboard.
Select "Account Request" from the Service Requests menu.
Now select "Update PAN" from the list of requests.
Choose your Bank Account Number.
Enter your PAN Card number.
Tap on the Proceed button and follow the on-screen instructions.
Conclusion
These are the two methods that you can follow to get your PAN Card linked with the IndusInd Bank account. For more information, you can call the customer care of the bank on 1860 267 7777. And speak with the customer care executive of the bank.