In India, most of us have a savings bank account with the banks. There are even people holding the current account, NRI account, etc. But speaking with the context of the general public most of us have a savings bank account. But when you have a current account you will get a special feature which is called OD or Over Draft. In this guide, I will tell you how you can check IndusInd Bank Account Overdraft Limit.
This limit is not usually the same for all the accounts, it depends upon the value of the transactions you do with your account. So it will not be fair to compare this limit to other account's OD limit. I have explained two methods which are very simple. And believe me, you will be able to check your account limit within the next 5 minutes of your valuable time.
Methods to Check IndusInd Bank Account Overdraft Limit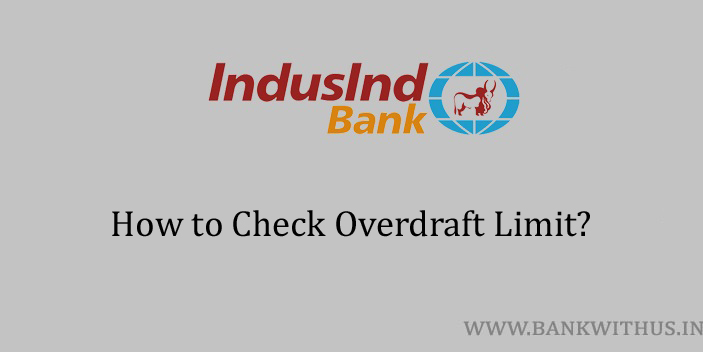 I have explained two methods the first one is an online method and the second one is the offline method. Choose the method which you feel is the right one for you. And follow the given instructions.
Using Mobile Banking App
Steps to Check IndusInd Bank Account Overdraft Limits using Mobile Banking App:
Download and Install the official mobile banking app of IndusInd Bank. (Indus Mobile)
Open the app after installation.
Tap on the "Login" button.
Enter your login details like username and password into the app.
If you are already a user of the app then touch your fingerprint or enter your MPIN.
After successful authentication, you will be taken to the Dashboard of the app.
Select your bank account number. (in case of multiple accounts)
Tap on "Account Details".
Your Overdraft Limit will be displayed to you in the Account Details section.
By Calling Customer Care
Steps to Check IndusInd Bank Account Overdraft Limits by Calling Customer Care:
Call the customer care of IndusInd Bank on 18602677777.
Choose the language in which you want to interact with the customer care executive.
Select the IVR option that will connect you to speak with the executive of the bank.
Wait till your call gets connected.
Once your call is connected tell the executive of the bank that you want to know your overdraft limit.
The executive will ask you a few questions about your bank account.
Answer all the questions correctly, these questions are asked for verification purposes.
The executive will verify your answers.
And the executive will tell you your account's overdraft limit.
Conclusion
These are the two simplest methods that you can follow. But in case you are not comfortable with these two methods. Then there is the third method as well. But for that, you will have to visit your IndusInd Bank home branch personally and speak with the bank officials.