Deposit Cash in Canara Bank Account: The bank account is a very important thing we should have with us. And most of us have one or more bank accounts in one or more banks that are operating in India. Why do you hold a bank account? Most of us open the account to receive the salary from the company or organization for which we work. And to keep the money we earn in our life. When we deposit cash or money in the bank account we get interest amount on the money. However, most of the banks which are operating in India don't provide a high rate of interest.
But still, we all keep the money in our bank account. Because the money is much safer when we deposit it in the bank account than keeping it in the home. We also get access to many features like internet banking, mobile banking etc. And the most important one is the ATM card. With the help of this card, we can withdraw the money from the bank account anytime any day. If you have a bank account in Canara Bank and want to know how you can deposit cash. Then you have been landed on the right website here. Because in this guide I will tell you how you can deposit cash in Canara Bank account.
How to Deposit Cash in Canara Bank Account?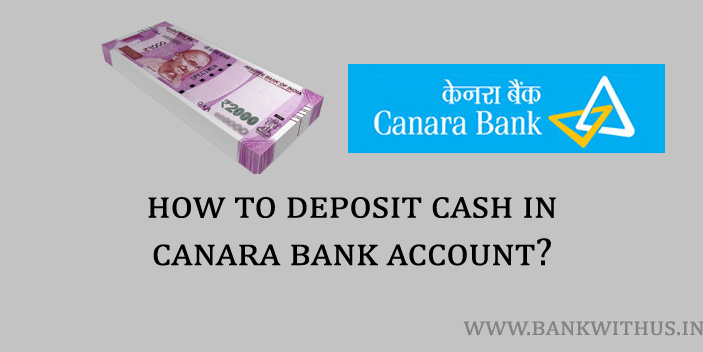 So now let us get started with this guide and check out how you can deposit cash in Canara Bank account. The process is very simple and you can find it below.
The first thing you have to do is visit your home branch where you hold your bank account.
Ask for a Pay-in-slip or deposit form from the bank officials.
Fill the deposit form with all the details which are asked.
You have to enter your account number, name, date, the amount of money in words and numbers etc.
Once you fill it completely check it once more to make sure no mistakes are there.
And finally, go to Cash counter and submit the money along with your duly filled deposit slip.
Conclusion
This is how you can deposit cash in Canara Bank account. I hope you are clear with all the six steps mentioned above. If you have any kind of doubts or questions then you can comment below.
Other Bank Guides to Deposit Money in Bank Account
Video Tutorial to Help you With the Cash Deposit
FAQ: Frequently Asked Questions
How much cash can be deposited in Canara Bank?
You can deposit any amount of the cash in the Canara Bank account below Rs. 10 Lakh. There are speculations that the limit can be set to Rs. 3 Lakh but there are no confirmations from the RBI as on 09/01/2020.
How can I deposit money in Canara Bank ATM?
You can not deposit money in Canara Bank ATM but you have to go to the Cash Deposit Machine which is designed to perform the work of the ATM machine as well as accept the deposits from the bank account holders. So if you want to deposit money then you will have to use the Canara Bank Cash Deposit machine and not the ATM machine.
Do banks charge for cash deposits?
Yes, there are some charges applied to the cash deposits done through the bank branches. I recommend you to talk to the bank officials to know the exact charges for each deposit you make in your bank account through your branch.
What is minimum balance in Canara Bank?
If your home branch is in a metro area then you will have to maintain Rs. 1000 as your monthly average balance. And for urban and semi-urban branches the monthly average balance is Rs. 500
What happens if you don't maintain minimum balance in Canara Bank?
If you don't maintain month minimum balance or monthly average balance then the bank will apply some charges or penalty on you for not maintaining the balance in your Canara Bank Account.
Can I deposit 50000 cash in bank?
Yes, you can deposit Rs. 50,000 cash at once in any bank. But make sure you have PAN Card linked with your bank account to avoid the issues with your bank account.
What happens if my bank account balance is zero?
Nothing will happen as such to your bank account. But you will have to pay fine to your bank because of the non-maintenance of minimum balance in your bank account.
Does Canara Bank have zero balance account?
Yes, if you have a basic Canara Bank account then it is nothing but the zero balance bank account offered by the Canara Bank.