Canara Bank is one of the biggest public sector banks that was operating in India before 1st April 2020. But now it has become even bigger after the merger with Syndicate Bank. This means the account holders of the Syndicate Bank are now officially counted with the people who hold a bank account with the Canara Bank. Well, that is about the recent change in the Canara Bank. I will be telling you more things about this bank which you should now in the further part of this article. In this article, I will tell you the steps which you need to follow to change the login password in Canara Bank Internet Banking.
It is always a good practice to change our password frequently to keep our bank account safe. Not only the login password but you should also keep changing your credit card and debit card PIN Number. Even the banks keep advising their customers but only a few people keep changing their passwords. Let us not neglect that advice of the bank and change the password of our important accounts and payment cards. I am sure that you will be able to change your login password very easily after reading this article completely.
But before we proceed to the further part of this article. Let me tell you in brief about the things you should know about Canara Bank. These days it is important that we know about our banks. And there is no need to worry much as you hold your bank account with Canara Bank.
Thinking why?
That is because this bank is owned and operated by the Government of India and the hard-earned money that you deposits with this bank is totally safe because of this.
About Canara Bank

Head Office Address
112 J C Road, Town Hall Junction, Bengaluru, Karnataka
Trade As
BSE: 532483
NSE: CANBK
Type of Bank
Public Sector Bank
Founded
1906 at Mangalore, Karnataka
Steps to Change Login Password in Canara Bank Internet Banking?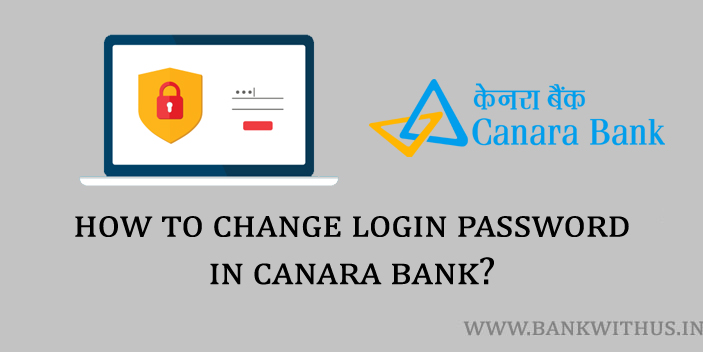 Now it is time for me to tell you the step by step procedure that you have to follow to change your login password which you use to login to the Canara Bank net banking portal.
Steps to Generate Login Password in Canara Bank:
Visit the official website of the Canara Bank: https://www.canarabank.in/

Click on Net Banking (Retail/Corporate) button.
Enter your Canara Bank User Id. (Customer ID)
After entering your User ID, enter your password.

Select the Language in which you want to proceed from the drop-down menu.

Click on the Sign In button.

Now you have to click on the Change Password link from the top menu.

Select Login Password from the drop-down menu.
Enter your old login password.
Enter the new password you want to set and confirm the same.
Click on Change Password.
You will be taken to a new page where you will be asked to confirm the change. Click on Confirm Button.
And your password will be successfully changed.
These are the steps that you need to follow to change login password in Canara Bank Internet Banking. Here I would like to tell you one more thing and that is you should never share your username, password, OTP, ATM Card Number, ATM PIN Number, and CVV, etc. with anyone.
And the bank officials will never call you asking these details. If you ever get a call, SMS or email asking you such details then don't share anything.
FAQ: Frequently Asked Questions
Can I Change my Canara Bank Login Password Online?
Yes, you can change your Canara Bank Internet Banking Login Password online from their official website.
What is Canara Bank Login Password?
Canara Bank Login Password is the one which you have to enter along with your User ID to login into your internet banking account. This is not the same as the transaction password.
Can I Change My Login Password Offline?
No, there is no provision given by the Canara Bank to change your password(s) related to internet banking offline.
What is Customer Care Number of Canara Bank?