Internet banking is really a great thing we have got with our bank accounts. The need of visiting the home branch of the bank has almost vanished. Of course, still, we have to visit the branch of the bank to complete some KYC procedures. And also to change some vital information like our name, signature, and address. Some private banks like IDFC FIRST Bank also allow changing the registered mobile number online. Does not that sound crazy? But that's the power of internet banking. In today's guide, I will tell you how you can delete beneficiary account in Canara Bank Internet Banking.
There are some beneficiary accounts that we added, now after the fund's transfer, we want to delete it. This happens with all of us. We just don't want to have those beneficiary accounts registered in our internet banking account which we don't use often. If you are here reading this guide to delete the beneficiary account for the same reasons then welcome aboard. And in case you have got your own reason to delete it and you are comfortable sharing it with others. Then you can do that by using the comment form which we have provided below.
Canara Bank is one of the leading banks that are operating in India. People in India trust the public sector banks like the State Bank of India, Canara Bank, Bank of Baroda, etc. more when we compare to that of the private banks. There are some good private banks too. Like, say ICICI Bank, Axis Bank, IDFC FIRST Bank, etc. But still, the public sector banks win the trust of the people. So before we proceed to the further part of this guide, let me tell you a few things about the Canara Bank.
Requirements to Delete a Beneficiary Account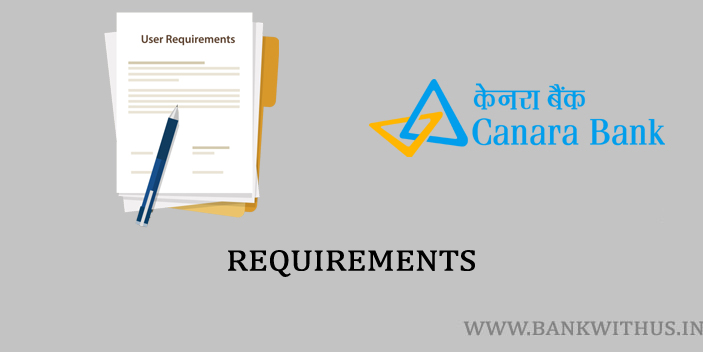 There are some requirements which you should have with you if you are planning to delete the beneficiary account in Canara Bank. Let me list them down here so that you should not face any difficulties while deleting it.
Stable Internet Connection.
Good Antivirus Software Installed and Running.
Desktop or a Laptop Computer.
Activated Canara Bank Internet Banking Account.
And You Should have Already added the Beneficiary to Delete.
When it comes to the internet connection we always need a stable connection when we are doing any kind of banking transactions. So make sure you have an internet connection which is quite stable. You should not lose your connection while you are in the process.
Along with a desktop or laptop computer equipped with a stable internet connection you also should have good antivirus software installed. Always keep in mind safety comes first. You should make sure your transactions are guarded against hackers. A good antivirus can help you to safeguard your self from being hacked online.
Now if you are willing to delete or add beneficiary in Canara Bank, then you should have activated the internet banking for your account. I hope you have already done that. In case, you have not activated internet banking in Canara Bank. Then you can read our guide to do so by following the link given here.
What Happens When You Delete the Beneficiary Account?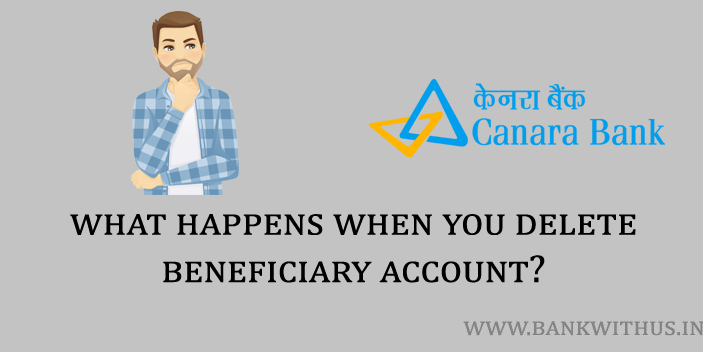 When you delete the beneficiary account in Canara Bank Internet Banking, nothing wrong is going to happen. Just the account will be deleted from your Net Banking Portal.
And in the case, you again want to transfer funds to the deleted beneficiary account. Then you can add the beneficiary account once more.
After adding the account the process to transfer the funds remains the same as it was before. This means you are not going to face any kind of difficulties after deleting the account.
Steps to Delete Beneficiary in Canara Bank Internet Banking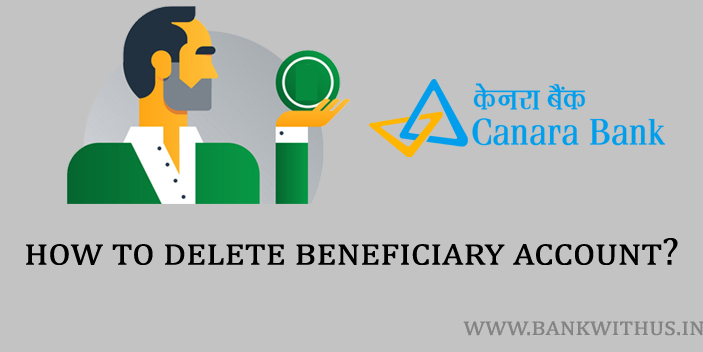 Now we know quite many things about the Canara Bank and the requirements you need to delete the beneficiary account. So now let us learn the steps which are involved in the process of deleting the beneficiary accounts in Internet banking.
Steps to Delete Beneficiary Account in Canara Bank:
Visit the official website of the Canara Bank.
Click on the Retail/Corporate Net Banking button.
Enter your username and password of your internet banking account.
Click on the Manage Beneficiaries button from the Quick Links section.
Now click on the beneficiary account you want to delete.
Click on Delete Account and follow the on-screen instructions.
Recently Canara Bank has upgraded its internet banking interface which is welcomed by all of its account holders. Because, the new interface is very smooth, organized, and fast when compared to the old one.
Video Tutorial to Delete Beneficiary Account in Canara Bank
F.A.Q: Frequently Asked Questions
Can I Delete Beneficiary Account using Internet Banking?
Yes, you can delete the beneficiary account using the internet banking service of the bank. All you have to do is log in to your internet banking account. Click on Manage Beneficiaries link. Select the beneficiary account you want to delete and click on the Delete button.
Can I Use Mobile Banking Application to Delete Beneficiary?
Yes, you can use the official mobile banking application of Canara Bank to delete the beneficiary account.
Are there any Charges to Delete Beneficiary Account?
No, there are no charges to delete the beneficiary account. This is totally free of cost.
Can I Add the Same Beneficiary Account Again After Deleting It?
Yes, you can add the same beneficiary account once more after deleting it. If in future if you want to transfer funds again to the account, then you can add it and remove it multiple times.