When you open a savings bank account or current account in Canara Bank or any of the banks operating in India, they will provide you an ATM card with your account opening kit. These days the ATM card is an essential thing which we get from the banks. It is mandatory these days to get an ATM card or Debit card from the bank when we open a bank account. Because we use this card so often in our day to day life, but when you receive the ATM cum Debit card from the bank, you can't use it unless you activate Canara Bank ATM card.
To activate or generate Canara Bank Green PIN, find any Canara Bank ATM near your location. Insert the card into the machine and choose to Generate Green PIN/Forgot PIN from the ATM Screen. Enter your bank account number; the bank will send OTP on your registered mobile number. Enter the OTP into the ATM Machine and select Validate. Re-enter the PIN and select "Confirm PIN."
Steps to Activate Canara Bank ATM Card
Once you have followed the instructions mentioned above, you have successfully generated the Canara Bank ATM PIN. Now you have to activate your card for the usage. 
Steps to Activate Canara Bank ATM Card: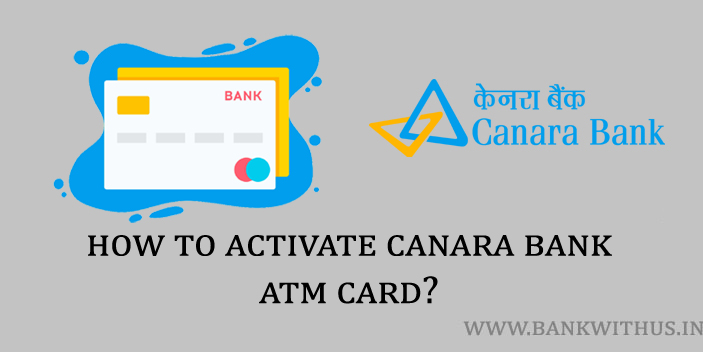 Find an 

ATM

 that is near to your location and is owned by Canara Bank.

Enter the ATM center and dip in your new ATM card into the machine.

Once you dip in your debit card into the ATM, select the language in which you want to use the machine.

After that, enter your four-digit 

PIN code

 into the machine using the keypad provided.

And you are done with it; these are the most simple steps that you need to follow to activate Canara bank ATM card.
Video Tutorial to Activate Canara Bank ATM Card
Conclusion
The steps you should follow to activate your debit card, but you should make sure that the ATM center you will visit should be of Canara Bank only and not any other banks like State Bank of India, etc.
FAQ: Frequently Asked Questions
Will the Bank Charge me to Generate Green PIN?
No, the bank will not charge you anything when you generate green PIN and activate your ATM Card.
Can I Use Other Bank ATMs to Activate my Canara Bank ATM Card?
No, you can not use the other bank ATMs to activate your Canara Bank Card. You have to use the ATM machine of Canara Bank itself.
Can I Generate Green PIN By calling the Customer Care?
Yes, you can generate your Green PIN By calling the customer care of Canara Bank. Use the IVR options to generate your green pin and soon you will get an SMS regarding the same on your registered mobile number.