Passwords are very important to login to our accounts. Maybe it is the Email accounts or Internet Banking accounts. If your password is exposed to others than your account is at stake. The banks always advise the account holders to change the passwords regularly and not use the passwords which can be guessed easily. And that is one of the best ways to keep your internet banking account safe and sound. In this article of mine, I will be telling you how you can generate transaction password in Canara Bank Internet Banking.
When it comes to the passwords for the Internet Banking portal of Canara Bank. There are two passwords and you should not get confused between the two. Let me explain to you which are those two passwords about which you should know.
The two passwords you need to know to use Canara Bank Internet Banking are,
Login Password.
And Transaction Password.
What is Login Password?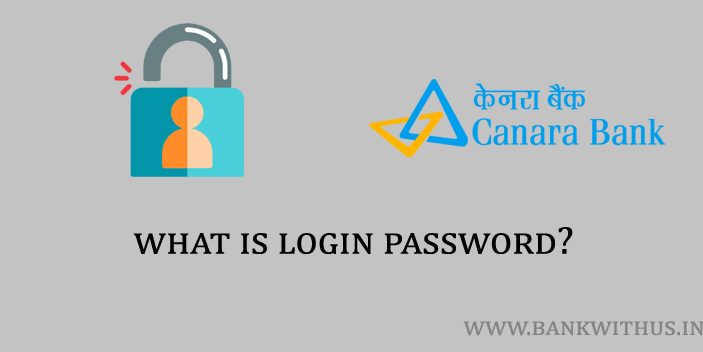 The login password is the one, you enter on the official net banking portal of the Canara Bank to login to your account. You have to enter your Login Password along with your User ID, which is Customer ID in Canara Bank. In simple words, it is the password that you need to access your bank account online.
You can learn more about how you can login to Canara Bank Internet Banking account here.
What is the Transaction Password?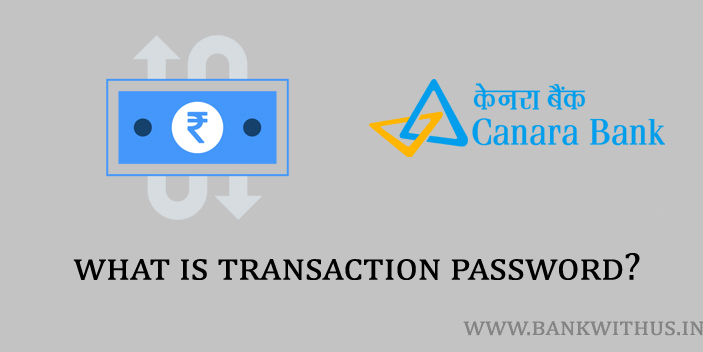 Login Password and the Transaction Password are two different things and you should not get confused between them. Transaction password is the password that you have to enter when you are making any kind of funds transfer transactions using your internet banking.
The system will ask you to enter the transaction password even if you are making any kind of online purchases using internet banking as the method of payment.
And in this article, I will be telling you how you can generate the transaction password for your Canara Bank Internet Banking. But before we proceed to the further part of this article. I would like to tell you about your bank in brief.
About Canara Bank

Head Office Address
112 J C Road, Town Hall Junction, Bengaluru, Karnataka
Trade As
BSE: 532483
NSE: CANBK
Type of Bank
Public Sector Bank
Founded
1906 at Mangalore, Karnataka
Products
Investment Banking, Consumer Banking, Commercial Banking, Retail Banking, Private Banking, Asset Management, Pensions, Mortgages, Credit Cards
Owner
Government of India
Number of Employees
58,000 (March 2019)
Owner of the Bank
Government of India
Website
www.canarabank.com
Revenue (2019)
₹54,269 crore
Operating Income (2019)
₹10,461 crore
Net Income (2019)
₹547 crore
Total Assets (2019)
₹7,11,782 crore
Customer Care (toll-free)
1800 425 0018
Steps to Generate Transaction Password in Canara Bank Internet Banking?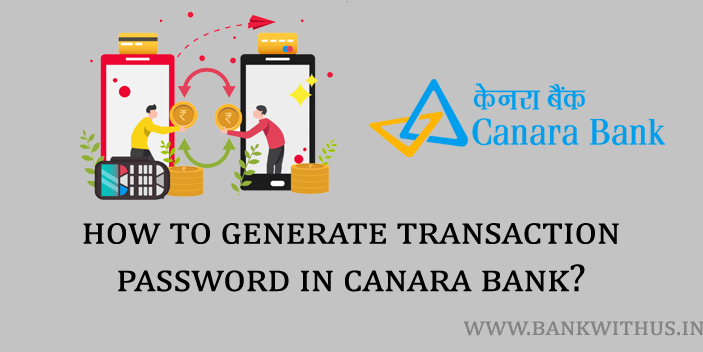 We now know enough things about the Canara Bank. Now I will tell you the steps which you need to follow to generate the transaction password for your internet banking account in Canara Bank.
The steps are very simple but to proceed with this article you need to activate internet banking in Canara Bank first. Because you will need your User ID (username) and password so that you can log in to your account in order to generate Transaction password.
Steps to Generate Login Password in Canara Bank:
Visit the official website of the Canara Bank: https://www.canarabank.in/

Click on Net Banking (Retail/Corporate) button.
Enter your Canara Bank User Id.
After entering your User ID, enter your password.

Select the Language in which you want to proceed from the drop-down menu.

Click on the Sign In button.

Then click on Generate Transaction Password link from the top part of the Net banking interface.

Now Enter your 16 digits debit card number.
Enter your debit card PIN Number in the next section.
Follow the on-screen instructions to set a transaction password for your net banking account.
Conclusion
So this is how you can generate transaction password in Canara Bank Internet Banking. I have also tried my best to explain to you the difference between the login password and the transaction password. And I also hope that you are clear with all the information that is mentioned in this article. But in case you have any kind of doubts in your mind about the transaction password then you can comment down below. I will be replying to your comments as quickly as possible. If you want to get assisted instantly then you can call the customer care of Canara Bank on their toll-free number: 1800 425 0018 and talk to the customer care executive.
FAQ: Frequently Asked Questions
How can I change my transaction password in Canara Bank internet banking?
You can change your transaction password by logging in into your internet banking account and click on the Change Password link. Now you have to enter your old transaction password and new transaction password to change it.
What is Canara bank User Id?
Canara Bank User ID is nothing but the Customer ID which you obtained from the bank. You can find your Customer ID or User ID on the first page of your bank passbook.
Can I Generate Transaction Password Offline?
No, you can not generate your transaction password offline. You have to do is online by visiting the official website of the Canara Bank.