You can use your IDFC FIRST Bank mini statement to get details of the last few transactions that happened in your bank account. At the same time, you can also check your bank balance. This guide will help you out with the methods to get this statement.
Methods to Get IDFC FIRST Bank Mini Statement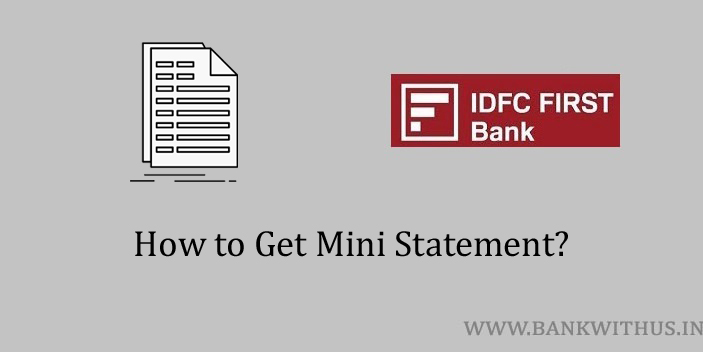 There are both online methods and offline methods that can be used by the account holders to get the statement. All the methods are explained below. All you have to do is select a method and follow the instructions given.
Using ATM Machine
Steps to Get IDFC FIRST Bank Mini Statement using ATM Machine:
Locate any of the ATM Machines that are near to your location.
Insert your ATM card into the machine.
Select your preferred language.
Enter your 4 digits ATM PIN number.
Select "Mini Statement" from the options.
The machine will ask you to select the type of your account. (Savings or Current)
Select the type of account you hold with the bank.
The ATM machine will process your request.
You will get a printed receipt out of the machine which is nothing but your statement.
By Sending SMS
Steps to Get IDFC FIRST Bank Mini Statement by Sending SMS:
Type an SMS as TXN <space> Last 4 Digits of your Bank Account Number.
And send this SMS to 5676732 or 9289289960 from your registered mobile number.
You will receive an SMS from the bank containing your statement for the requested bank account.
Using WhatsApp Banking
Steps to Get IDFC FIRST Bank Mini Statement using WhatsApp Banking:
Save the IDFC FIRST Bank's WhatsApp Banking Number to your Contact List. (9555555555)
Open WhatsApp on your smartphone.
Send a Message as "Hi".
You will get an Automated Reply from the WhatsApp Banking system of the bank.
Now Send "2" as the reply.
You will get the details of the Last 5 transactions that happened in your account.
Conclusion
This is how you can get your mini statement. You should never share your bank account details like your username, password, CVV, and OTP with anyone. And no one from the bank will ever call you to ask for such details. For more information, you can call the customer care of the bank at 1800 419 4332. And speak with the customer care executive.