Debit cards have become an integral part of our lifestyle. But UPI is a totally different topic which is almost killing the usage graph of the debit card or ATM Card. People feel that using the unified payment interface is more convenient. And in reality, it is way more convenient than using the debit card for making the payments. But still, there is a different place for the debit cards in our financial lifestyle. If you have a bank account with the IDFC First Bank and want to change debit card PIN in IDFC First Bank. Then this article is for you.
I will be telling you everything you need to know about the PIN of the debit card and the ATM Card. The procedure which you need to follow to change debit card PIN in IDFC First Bank is very easy. You should make sure that you change your PIN periodically to ensure that your card is safe and the PIN number is confidential. The banks are putting their highest efforts educating the people not to share their debit card details like debit card number, CVV and OTP, etc.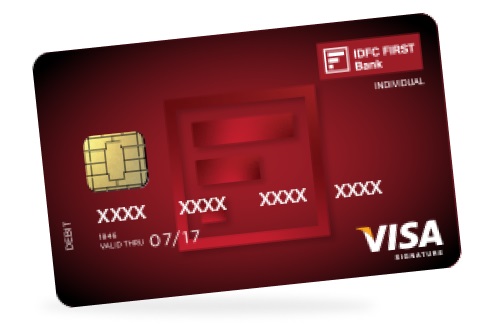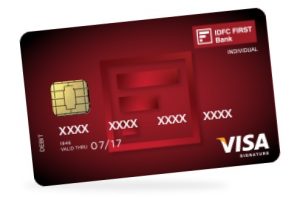 Today I am taking a step forward to educate the IDFC First Bank account holders that they should never share their debit card details, Internet and mobile banking password, UPI PIN Number and other things to anyone. And in case someone calls you and tells you that they are calling you from the bank. Then you need to report the bank about that call. Because, no one from the bank will never call you and ask for the details like your debit card PIN, UPI PIN, etc. We can see a drop in such debit card frauds these days. But still, we have a long way to go in this case.
About IDFC First Bank

Type of the Bank
Private Bank
Traded As
BSE: 539437
NSE: IDFCFIRSTB
Industry
Banking and Financial Services
Predecessor
IDFC Bank and Capital First Limited
Founded
October 2015
Head Quarters
Mumbai, Maharashtra
Chairman (January 2020)
Rajiv Lall
MD and CEO (January 2020)
Mr. V. Vaidyanathan
Products
Consumer banking, Corporate banking, Wholesale banking, Mortgage loans, Private banking, Wealth management, Investment banking
Revenue (2017)
₹85.3272 billion
Operating Income (2017)
₹30.30 billion
Net Income (2017)
₹10.20 billion
Total Assets
₹1.12160 trillion
Number of Employees (July 2018)
7,043
Website
www.idfcfirstbank.com
Customer Care Phone Number (toll-free)
1800 419 4332
Customer Care E-Mail ID
[email protected]
How to Change Debit Card PIN in IDFC First Bank?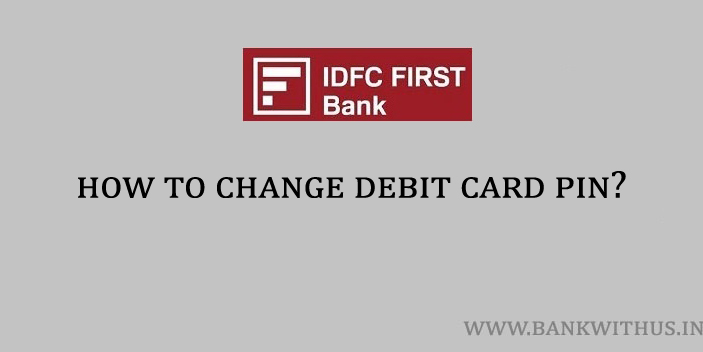 So here are the steps which you need to follow to change debit card PIN in IDFC First Bank online using internet banking service. But if you want to proceed with this article then you will need an active internet banking service. If you don't have activated it yet then you can get it done from the official website of the bank.
Steps to Change Debit Card PIN in IDFC First Bank:
Go to the official website of the IDFC First Bank.
Click on Customer Login.
Click on Personal and Business Banking.

Enter your IDFC Bank Internet Banking Username.
Enter your password and click on Login button.
Click on PIN/Password Management from the left sidebar of the interface.
Click on Change Debit Card PIN.

Enter your debit card number.
Enter the expiry date of your card.
Enter the CVV Number of your card and click on Next.
You will receive the OTP on the registered mobile number.

Enter the OTP in the internet banking interface.
Enter your old debit card PIN.

Enter your new debit card PIN.
Re-enter your new debit card PIN and click on Submit.
Conclusion
So this is how you can Change Debit Card PIN in IDFC First Bank online using internet banking. The steps are very easy and I am very sure that you will be able to change the PIN without any difficulties. But still if you have any kind of doubts in your mind then you can comment down below. I will reply to your comments as soon as possible. And for further assistance, you can contact the customer care of the bank on their toll-free number: 1800 419 4332 and talk to their customer care executive for further assistance.
FAQ: Frequently Asked Questions about Debit Card PIN
Are Debit Card PIN and ATM Card PIN Same?
Yes, both debit card PIN number and the ATM card PIN number are one and the same. That is because debit card is another name for your ATM Card.
Can I Change my ATM Card PIN Offline?
Yes, you can change the ATM Card PIN with the help of the ATM Machine which is near to your location. Other than that there is no provision to change the PIN offline.
Can I Use Mobile Banking to Change ATM PIN?
Yes, you can use the official IDFC First Bank mobile banking application to change your PIN number.
How to Activate my Debit Card?
You have to generate PIN for your ATM Card activation. Use internet banking or mobile banking service to do it.