FASTags are helping us a lot while we are on our national highways. There is no doubt that this was a much-needed upgrade for all of us. But sometimes the situations may arise where we lose our FASTag or it can be stolen by someone. In such a case, if you should immediately block IDFC FIRST Bank FASTag.
This guide is for those people who are using the tag issued to them by the IDFC FIRST Bank. And want to block it for some reason. If your tag is stolen and if you don't block it in time. Then the person who has got your tag can use it. So if you want to save your IDFC FIRST Bank FASTag balance. Then take steps to block it immediately.
Before I started writing this guide I was looking for the related information. But I failed to get it directly from a dedicated guide. At last, I found the answer in the FASTag terms and conditions page of the bank. Now in the future users like you can use this dedicated guide to block their tag if lost or stolen.
If somebody else uses your tag you will receive an SMS about the transaction on your registered mobile number. But the bank will not refund your money. To avoid such losses it is always recommended to block the tag as soon as you realize that you have lost it.
Step by Step Process to Block IDFC FIRST Bank FASTag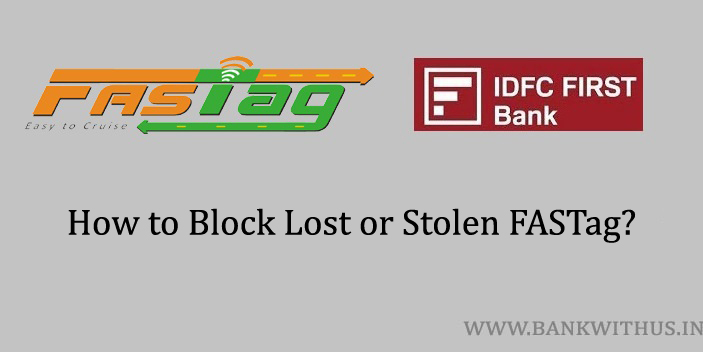 Follow the instructions given below to block your lost or stolen tag.
Steps to Block IDFC FIRST Bank FASTag:
Call the customer care of IDFC FIRST Bank at 18002669970. (toll-free)
Speak with the customer care executive.
Tell the executive that you have lost your tag and want to block it.
Answer a few verification questions asked to you by the executive.
Your tag will be blocked permanently by the executive.
Conclusion
This is how you can block IDFC FIRST Bank FASTag if lost or stolen. Once your tag is blocked you can not use it anymore even if you find it back. You have to request a replacement tag from the bank. The replacement tag will cost you Rs. 200 + taxes.