Email Address and the mobile number are the two vital details which the bank requires to instantly contact you. I am not telling you that these are the only possible ways by which your bank can get in touch with you. There are other things too like residential address, permanent address, communication address, etc. But if they want to reach you instantly then they can use your Email ID and Mobile Number. In this guide, I will tell you how you can update or change email id in IDFC First Bank.
I think you are one of the bank account holders of the IDFC First Bank, I am quite sure about that because you are looking online for information related to this bank. Even I hold my primary bank account with this bank and I am quite satisfied with the banking services they offer. What is your experience with the bank? Are you satisfied or no? You can share this with me and the other readers by using the comment form available at the end of this guide. But if I talk about my personal experience with various banks operating in India. I feel IDFC First Bank be the best bank to hold a bank account with.
It is very important to have your Email ID and mobile number to be updated with your bank records. They are important to stay notified about what is happening in your bank account. If you want to know how you can change your registered mobile number in IDFC First Bank, then I have a different and dedicated article on that topic. The steps which you need to follow to change email ID in IDFC First Bank are quite easy. There are multiple methods to do this and I have shared them all in this guide.
Why Registered Email ID or Address is Important?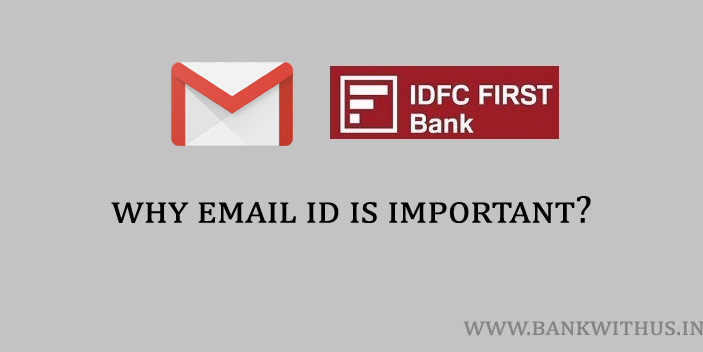 When it comes to the importance of the registered email address in the bank account, it is quite important because you will be receiving all the account related details via Email. Things like your bank account statements, Fixed Deposit Advice or Receipt all such things are sent via email to your registered Email ID or Email address.
About IDFC First Bank

Type of the Bank
Private Bank
Traded As
BSE: 539437
NSE: IDFCFIRSTB
Industry
Banking and Financial Services
Predecessor
IDFC Bank and Capital First Limited
Founded
October 2015
Head Quarters
Mumbai, Maharashtra
Chairman (January 2020)
Rajiv Lall
MD and CEO (January 2020)
Mr. V. Vaidyanathan
Products
Consumer banking, Corporate banking, Wholesale Banking, Mortgage loans, Private banking, Wealth Management, Investment banking
Revenue (2017)
₹85.3272 billion
Operating Income (2017)
₹30.30 billion
Net Income (2017)
₹10.20 billion
Total Assets
₹1.12160 trillion
Number of Employees (July 2018)
7,043
Website
www.idfcfirstbank.com
Customer Care Phone Number (toll-free)
1800 419 4332
Customer Care E-Mail ID
[email protected]
How to Change Email ID in IDFC First Bank?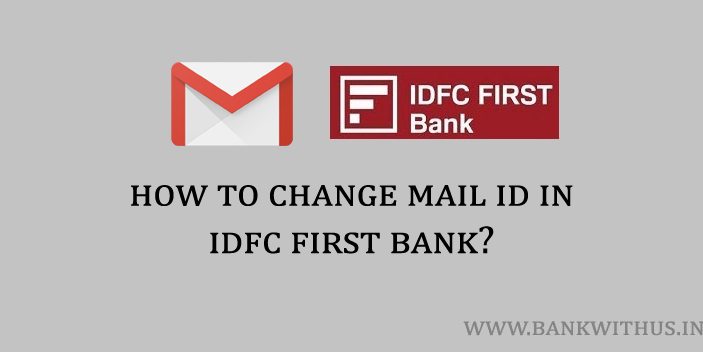 You can follow two methods to change Email ID in IDFC First Bank, out of which one is an online method and the other one is an offline method. In the case of the online method, you will require access to your internet banking. So if you have not activated internet banking service for your bank account then you have to do it before you can use this online method.
And if you want to use the offline method then there is no requirement of internet banking or mobile banking service. But you personally have to visit your home branch where you have opened and maintain your bank account.
Steps to Change Email ID in IDFC First Bank Online:
Go to the official website of the IDFC First Bank.
Click on Customer Login.
Click on Personal and Business Banking.

Enter your IDFC Bank Internet Banking Username.
Enter your password and click on Login button.

Click on My Profile from the left sidebar of the interface.
Scroll down and find the Email Address section.
Click on Edit Email ID.
Enter your new Email ID and follow the on-screen instructions.
Steps to Change Email ID in IDFC First Bank Offline:
Go to your home branch where you maintain your bank account.
Tell the branch officials that you want to change your email id.
Write an application letter addressing to your branch manager.
Mention the subject as Change or Updation of Email ID.
Mention your bank account number and Email ID.
Make your signature on the application letter.
And submit it to the branch officials.
When you got your home branch to update or change your Email ID, you have to carry any of your identity proof documents such as PAN Card, Aadhaar Card or your driving license.
Video tutorial to change Email ID
Conclusion
So these are the two methods that you can use to change Email Id in IDFC First Bank account. If you have any kind of confusion in your mind then you can comment down below. I will make sure that I reply to your queries as soon as possible. You can also contact the customer care of the bank on their toll-free number: 1800 419 4332 and talk to their customer care executive for more details.
FAQ: Frequently Asked Questions about Email ID in IDFC First Bank
How Can I Change Email Address in IDFC First Bank?
You can update or change your Email Address in IDFC First Bank using internet banking services. and by visiting your home branch offline.
Can I Update Email ID using Mobile Banking?
Yes, you can use the mobile banking application to update your email id in the bank records.
How to Write Application Letter to Change Email ID?
You have to write an application letter addressing your branch manager. Mention the subject as change of Email ID. Mention your name, your bank account and your email address in the letter.