Credit cards are a great instrument of money since we have started using these cards our spending habits have changed. In this guide, I will tell you how you can use the IDFC FIRST Bank Credit Card Balance transfer option.
When we are buying something with a credit card. The process goes very smoothly we never feel like we have paid for it. The reason is there is no instant deduction of money from our bank account balance.
This is something that has changed the way people spend. Usually, credit card users endup spending more than what they can afford.
This is what credit card issuing companies need. Because when the customer spends more than what he or she can pay.
He or she will pay the minimum due only and the game of interest rate starts. The banks and the credit card issuing companies know how to encash this opportunity. And they have come up with an option called Balance Transfer.
How is the Credit Card Balance Transfer Option Useful?
With the help of the credit card balance transfer, you can move the due amount of your other credit card to your IDFC FIRST Bank's credit card.
By doing this you are for time being settling the due amount of your other credit card. This will help you save the interest amount.
For example, let us assume that a customer has an SBI Credit Card whose payment of Rs. 10,000 is due today. But the customer does not have the money right now to pay the dues off.
In such a case the customer can transfer Rs. 10,000 from the balance of his or her IDFC FIRST Bank credit card to SBI Credit Card. By doing so he or she will be able to clear the dues on time.
Later the transferred amount will reflect in the statement of the IDFC FIRST Bank's credit card.
How Much does IDFC FIRST Bank Charge for Balance Transfer?
The customer will be charged a 1% processing fee of the balance transfer amount + 18 GST on the processing fee. The minimum processing fee will be Rs. 99.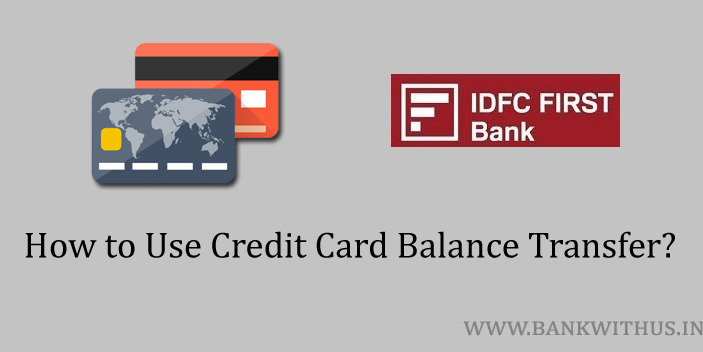 Steps to Transfer Balance from IDFC Credit Card to Other Bank Credit Card:
Open the official mobile banking app of IDFC FIRST Bank.
Login to your account.
Now select your IDFC Bank Credit Card that you would like to use for the balance transfer.
Scroll down and select the "Balance Transfer" option.
Enter your other bank credit card number and your name on the other bank credit card.
Enter the amount to be transferred.
Read the terms and conditions carefully.
If you agree to the terms and conditions then tick the box and click on the "Submit" button.
Conclusion
This is how you can use IDFC FIRST Bank credit card balance transfer. You should also know that not all customers are eligible for this option. In case you are not eligible you will get an error message when you try accessing the balance transfer option. (in step number 4)