There are a lot of people who hold their bank account with the Federal Bank. And my today's guide is for the account holders of the bank, who want to get their mini statement. The process is very simple and there are 3 methods that can be followed to retrieve it from the bank.
The bank account statement and the mini statement are totally different. If you want a statement that contains details of all the transactions that happened in your bank account for a specified period of time. Then this is not the statement you are looking for. You should download the account statement.
Most of the banks that are running their operations in India give the details of the last 5 transactions. But Federal Bank gives the details of the last 10 transactions in the statement. This is a good thing that is being done by the Federal Bank. Go with the electronic modes to get the statement and save trees.
Methods to Get Federal Bank Mini Statement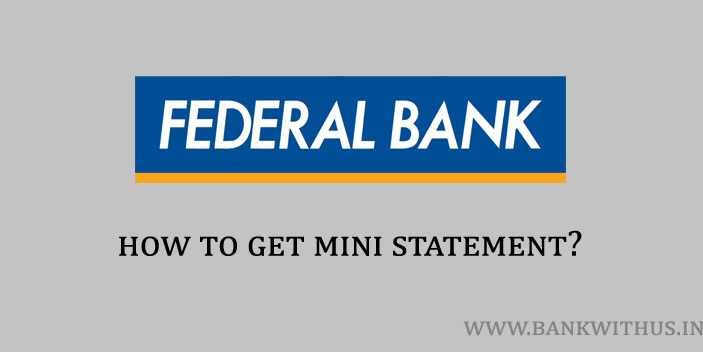 Here are the different methods that you can follow to retrieve or fetch your Federal Bank statement. You can choose the method which you feel is right for you.
Using the ATM Machine
Steps to Get Federal Bank Mini Statement using ATM Machine:
Find the nearest ATM machine to your current location.
Insert your ATM card into the machine.
Select the language in which you would like to use the machine.
Enter your ATM PIN Number.
Select the mini statement option from the screen of the machine.
And you will get a printed receipt of the statement.
By Giving Missed Call
Steps to Get Federal Bank Mini Statement by Giving Missed Call:
By Sending SMS
Steps to Get Federal Bank Mini Statement by Sending SMS:
Type an SMS in the format mentioned below.
Type TXT and send it to 9895088888 from your registered mobile number.
You will receive your mini statement instantly via SMS from the bank.
Conclusion
These are the 3 methods that can be followed by you to get the Federal Bank mini statement. If you are facing any kind of issues with your bank account. Then I highly recommend you call the customer care of the bank on their toll-free number: 1800 420 1199 and speak with the customer care executive.