ATM card is one of the most basic things that is offered to the account holders by every bank in India. No matter what kind of bank account you have you can get an ATM card. These cards help us to withdraw money from our bank account whenever we want irrespective of time and day.
When these cards have the capacity to get the money out of our account. Then we should protect these cards somehow, right? This is where the ATM PIN number comes into the picture. Nobody can use your card in the ATM machine without the PIN number. This guide will help you to generate Federal Bank ATM PIN online.
When I say online I am talking about the use of the internet to access and make changes to your account. We can generate the Personal Identification Number of Federal Bank ATM card using internet banking and mobile banking as well. Other than online methods there are offline methods too. You can use any one of the methods.
Methods to Generate Federal Bank ATM PIN Online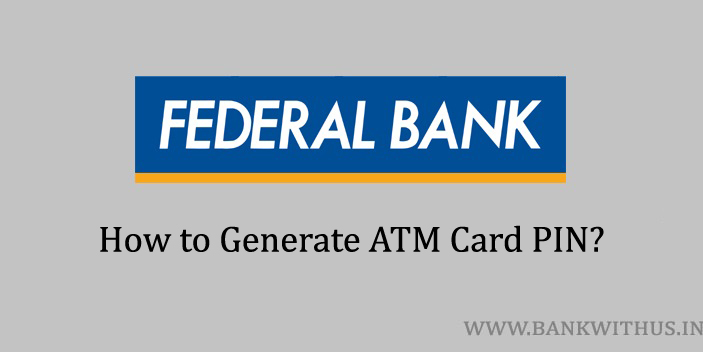 Choose any one of the methods mentioned below and follow the instructions. All the below-mentioned methods are free of cost. This means the bank will not charge you anything when you perform this transaction.
Using Internet Banking
Steps to Generate Federal Bank ATM Card PIN Using Internet Banking:
Visit the official website of the Federal Bank.
Click on Net Banking.
Choose which type of net banking user you are. (Personal, Business or New User)
Enter your User ID.
Enter your Password and click on the login button.
Click on Debit Card Services.
Select "Change/Reset PIN" from the services.
Choose your debit card from the list.
Enter your new PIN number twice.
Enter the expiry date of your debit card.
Click on the Next button and follow the on-screen instructions.
Using Mobile Banking
Steps to Generate Federal Bank ATM Card PIN Using Mobile Banking:
Download and install the official mobile banking application of the Federal Bank.
Open the application.
Enter your login details.
Tap on Settings in the dashboard of the app.
Select Card Management.
Choose your debit card from the list of cards.
Select "Set New PIN/Change.
Enter your New PIN number twice.
Enter your card's expiry details and your new Personal Identification Number will be generated or set.
Using ATM Machine
Steps to Generate Federal Bank ATM Card PIN Using ATM Machine:
Type an SMS as SP <space> Last 4 Digits of Debit Card Number
Send the SMS to 5676762 or 9895088888 from your registered mobile number.
The bank will send you an OTP.
Locate any Federal Bank ATM which is near to your location.
Visit the ATM machine.
Select the Soft PIN option from the screen of the machine.
Insert your card into the machine.
Enter the OTP you received from the bank.
Now enter the new PIN number that you want to set to your ATM Card.
Note: If you have lost your ATM card then you should not change the PIN. Instead, you should block it immediately.
Conclusion
This is how you can generate Federal Bank ATM PIN Online and Offline. You should make sure that your details like username, password, PIN number are not exposed to anyone. In that case, you should take immediate steps to change it. For more information call the customer care of Federal Bank at 1800 420 1199 (toll-free) and speak with the customer care executive.