Debit cards are great they allow us to pay and withdraw money whenever we need it. But if you have lost your card then the balance you have in your bank account is in danger. So as soon as you realize that you have lost the ATM Card or debit card. You should block it immediately. And this guide is for those customers of the Yes Bank who have lost the card and want to block it.
Yes Bank allows you to block the card and again unblock the card if you have found it back. So this is a good option for customers like you and me. If you feel you have simply misplaced the card at your place and you will find it soon. Then you can block it for now and then you can unblock it later once the card is with you. But once your card is blocked by the bank you will not be able to use it anymore unless you unblock it.
Methods to Block Yes Bank ATM Card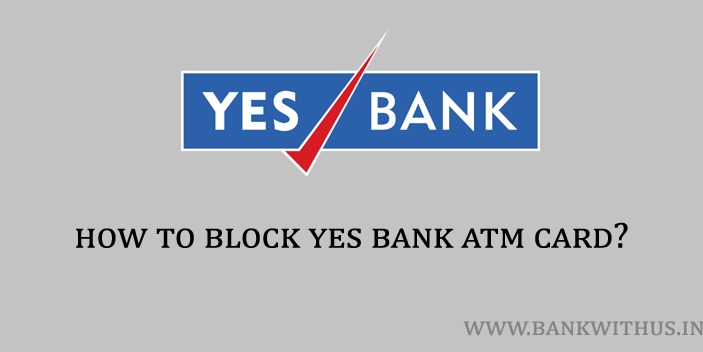 There are 3 methods that can be followed by the customers to block their lost or stolen cards. Both the methods are explained below, choose the one which you feel is the right one for you.
Calling Customer Care
Steps to Block Yes Bank ATM Card by Calling the Customer Care:
Call the Customer Care of Yes Bank on 1800 1200 (toll-free)
Select the language in which you would like to interact.
After selecting the language select the IVR option to block your lost ATM card.
And your card will be immediately blocked.
By Sending Email
Steps to Block Yes Bank ATM Card by Sending Email:
Write an Email explaining that you have lost your debit card and want to block it.
Mention only your last 4 digits of the card.
Make sure you don't share any of your details like username, password, PIN number, etc.
And send it to [email protected]
Using Mobile Banking
Steps to Block Yes Bank ATM Card Using Mobile Banking:
Download and Install the official mobile banking application of Yes Bank.
Enter your login credentials into the application.
Select Debit Card Management from the dashboard of the application.
You will be taken to the debit card console.
Now tap on "Block/Unblock Card".
Select the card you have lost and it will be blocked immediately.
Conclusion
If you have access to your mobile banking application. Then I highly recommend you use that to block the card. And in case you don't have then call the customer care of the bank and get the card blocked. It does not matter how you block the card, only what matters is your card should be immediately blocked.