PAN Card which is the acronym for the Permanent Account Number is issued by the income tax department of India. This is an important component of the KYC details. And if you don't have a PAN Card then it is nearly impossible to open a new bank account for you.
Somehow if you manage to open the bank account then there will be a lot of limits to the account. The limits will be on the total amount of transactions you can do using the bank account. If you don't want these limits on your bank account usage. Then you will have to update PAN Card details in the bank account.
This process is also called as the Permanent Account Number linking process. If you are an account holder of the Yes Bank then this guide will help you to update the details in your Yes Bank Account. The procedure to do this is very simple. There are both online as well as offline methods available.
Methods to Update PAN Card Details in Yes Bank Account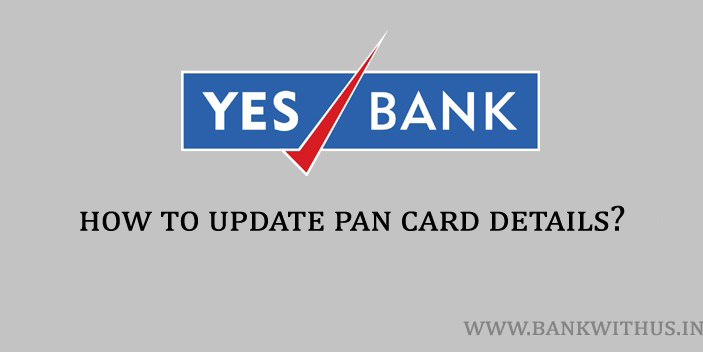 Both the online and offline methods are discussed below. You can choose any one of them which you feel is the right one for you. The online method is using internet banking (Netbanking) and the offline method is using the PAN Card updation form.
Using Netbanking
Steps to Update PAN Card Details in Yes Bank Online:
Visit the official website of the Yes Bank.
Click on the login button which can be found at the upper right corner.
Select retail and click on the Get Started link.
Enter your login details.
Solve the captcha and click on the login button.
Once you have logged in into your account click on "My Space".
Click on "Update PAN Card Details" under the Request and Enquiries Section.
Enter your Card number and click on the Update button.
Verify the PAN Number again and click on the confirm button.
By Visiting Branch
Steps to Update PAN Card Details in Yes Bank Offline:
Visit the Yes Bank branch which is near to your location.
Go to the help desk or counter and speak with the bank officials.
Tell the bank official that you want to update your PAN Card details.
They will provide you with a PAN Card updation application form.
Fill the form with all the details like name, account number, etc.
Check if you have filled all the details correctly.
If your details are correct then sign the application form.
Submit the duly filled and signed application form to the bank officials.
And your details will be updated within 5 working days.
Conclusion
This is how you can update PAN Card details in your Yes Bank account online as well as offline. I hope you are clear with all the information mentioned in this guide. If you have any kind of doubts in your mind then you can call the customer care of the bank at 1800 1200 and talk with the customer care executive.