There are different types of accounts that are exclusively designed for minors. And for adults, there are different accounts. The features and the limits on both the type of accounts are very different. And this is why there should be the correct date of birth in your bank account. This guide is all about how you can change date of birth in Yes Bank account.
Normally what happens is there will be a mistake on our document. And when we provide the same document to the bank it takes into consideration the same DOB. But once you have got it corrected on your proof document. You can correct the date of birth in Yes Bank account as well. Being an account holder of the bank you have the right to change this detail. (by providing proper proof)
Steps to Correct or Change Date of Birth in Yes Bank Account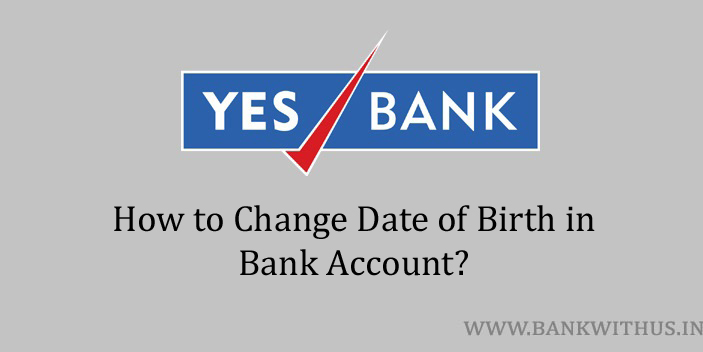 In this guide, I will not be telling you about any online method. Instead, I will be telling you the steps of an offline method. To follow this method you will have to visit the nearest branch of Yes Bank and submit a form. I recommend you to visit your home branch. There is a form that is designed and used by Yes Bank for the update in demographic details. You can download this form online from the official website and also get it at the branch of the bank.
Steps to Change Date of Birth in Yes Bank Account:
Download and take a printout of the "Request Form for Changes in Demographics".
Fill in all the basic details in the form like date, your name, account number, etc.
Now come to the "Section-B" of the form.
There is a separate Date of Birth Column.
Now mention your new or correct DOB in the space provided.
Collect your proof document certifying your new DOB and take a photocopy of it.
Make your signature on the photocopy to make it self-attested.
Now attach the photocopy and the duly filled form.
Sign the form, visit the nearest branch of Yes Bank and submit it to the bank officials.
Conclusion
If you visit your home branch then that is great. But being a Yes Bank account holder you can bank from any of their branch in India. So it will not be a problem if you go to any other branch as well. And the bank will not charge you anything for this change. While you visit the branch make sure you also carry the original copy of the proof document. For more information call the customer care of the bank on 1800 1200 and speak with the executive.